Skincare for the Over 40's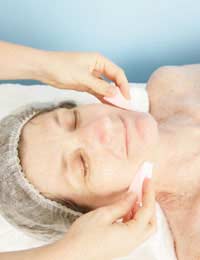 We have to admit it, whether for life or for cosmetic reasons, every woman secretly hates the thought of getting into this age bracket. But it need not be an end to looking young as we know it and a hello to crepey complexions! The good news is that by this age you should literally be more comfortable in your own skin and therefore making sensible, well-informed choices about its needs. If you feel your face is long due for an overhaul, it's essential to sit down with a mirror in natural light and start to assess. Skin will mirror how you've lived - late nights to smoking and emotional state, health and well-being - a large dose of T-cells (of immunity) also lie in the skin.
A note on wrinkles - they will look more prominent the dryer the skin and skin gets dryer from the age of 25. Wrinkles and crinkles are a result of the thin epidermal layer subsiding into the underlying wrinkles of the dermis (funnily enough, the outer layer is unable to wrinkle). Aside from the surgeon's knife, with more mature skin there is no quick fix but there does exist an over-stacked 'miracle' skincare market that can be a maze to navigate. In fairness, though no one magical elixir exists, skincare's increasingly sophisticated and it's a case of spring-cleaning your skincare kit to find what works well for you now.
By this time, your preferred beauty route may be the big brand scientific approach or the natural path or a commercial compromise between the two. You may still have to experiment until you hit the right equation. So-called advanced ingredients in anti-ageing products include retinol, antioxidants such as vitamins C and E and grapeseed extract to pentapeptides and doubtless more to be discovered in labs or exotic lands, on the way. Some women in this age range swear by supposed wrinkle softening preparations such as Strivectin where others manage to have blooming skin with traditional cold creams and a film of Vaseline at night. A good idea is to look at women of around the same age with stunning skin, complement them on it and ask what range they use.
On your quest for youthfulness, don't forget to include chest, hands, and body, too. All exposed areas need a good sun protection factor and if you're thinking of retiring to sunnier climes, remember the leather-skinned, sun weary skin look is the most ageing. Aim for moderation and balance in all things with lashings of relaxation to unfurrow the face. The calming Chinese arts and inverse postures that gently reverse blood flow in yoga, are of particular benefit. Skin plumping and pampering should be part of your update beauty routine. Have regular facials and ask for tips on the toning and therapeutic, touch tactics used. Introducing these massage movements into your own everyday ritual means you'll help facial muscles drain excess lymph fluid and waste away - and reduce puffyness, tension and lines, at the same time.
Anti-Ageing Skin Tips:
Attitude is everything. Avoid vegetating in mid-age and beyond. Find your zest for life - a new-found passion perhaps, and your face will reflect this. Laughter's a great face 'medicine' and happiness lend radiance to any age skin.
Be proud of the face you've acquired. As the divine into her '60s Audrey Hepburn replied on famously refusing the retouching of her later magazine shots: 'I'm proud to say I've earned every line!'
You might also like...