Best Looks for Mediterranean to Asian Skin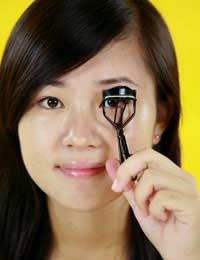 Women with olive-based skin can carry off a wide range of colours on their face. Olive skin in this sense refers to women from Asia and the Middle East as well as the typical Mediterranean complexion that is usually associated with the term. Darker eye make-up looks great on this skin tone, as do neutral shades, so there are a lot of make-up looks that will suit you.
Base
A light foundation is all that you really need to even out your skin tone. Although olive skin can appear to look yellow, it actually has more of a natural green undertone, as well as the yellow undertone that all skin tones have. This combination can make your skin look grey. To counteract this, choose a foundation that is yellow-to-gold based, as this will "lift" your skin. If you need to cover up any slight imperfections, try a concealer in the same shade, or if your skin tends to look grey and ashen, go for an orange-based concealer. It sounds weird, but it does work!
Blusher
Warm pinks, coral, apricot, terracotta, dark plum and bronze will flatter your skin. These will provide a natural glow. Avoid colours that are too bright, as they will leave your skin looking green. Likewise, peach and pale pink will make your face look too washed-out. Bronzing powder is another good option to emphasise your cheekbones. If you want to use a highlighter instead of blusher, pale gold and pinky gold shades will give you a radiant complexion that is perfect for evening.
Eyes
Rich browns and burgundy colours will create a spectacular look, especially if they have a shimmer to them. Other good colours include copper, bronze, gold, warm pink, plum, forest green, dark purple and sapphire blue. As a general rule of thumb, any dark shade that contains a certain sparkle will ensure that your eye make-up is suitably eye-catching. These colours will all emphasise your stunning skin tone.
Metallic shades are another good look, but keep the colours fairly dark. The only real metallic shade to avoid is silver, as it isn't strong enough to complement your warm skin tone.
Lipstick
Warm pink, sheer nudes, coral, peach, apricot, bronze, gold, soft golden berry and soft plum are the perfect colours to flatter your skin during the day. Stay away from "true" red shades (for example, the dramatic red of the London buses) as they will clash with your olive complexion. If you want a more dramatic look for the evening, try a dark wine, berry or deep plum lipstick, or opt for lip-gloss if you prefer to add a more glamorous feel to the look. Women with an olive skin tone can wear darker shades of make-up, as it really suits your complexion. Avoid wearing any colours that are too light though, as they won't suit you. Pastel shades of make-up are usually a big no-no, as they aren't strong enough to and can clash with your skin tone. Darker colours create a much more striking look, as do shimmery shades, such as bronze or metallics.
You might also like...
Dear Madam, I have always had problems wearing foundation as I have olive skin and I have tried powered foundations and spent on expensive ones.I found that wearing it gives me an old wrinkly mask look which is upsetting.I have tried liguid foundations and get near enough the same look.I now wear soft beigh liquid foundation and with all foundations. soon as I go out in the wind, I end up in tears and this smudges my fountation.Do I need to use a primer? If so, What colour? What sort of foundation should I go for without having to break the bank? Please email me. Thankyou.
Pingu
- 2-Feb-13 @ 1:56 PM