Best Looks for English Skin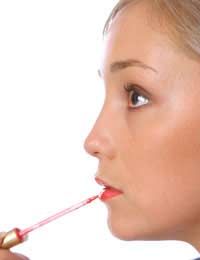 The classic "English Rose" look is incredibly striking. Celebrities such as Kate Winslet, Liv Tyler and Cate Blanchett are famous examples of this. If you're lucky enough to be blessed with the same porcelain skin tone, which make-up looks best suit you?
Retro Glam
This is a great look for English skin. It relies heavily on radiant skin, coupled with bold red lips and fairly striking eye make-up.
Even out your skin tone with a light base, followed by a touch of concealer to cover blemishes. Choose a pink-based foundation (rather than a yellow-based foundation) as this will suit an English Rose complexion.
Pale skin is classed as a cool skin tone, so opt for a blue-based red lip colour. As well as complimenting English rose complexions, it also makes your teeth look whiter. Another good choice is a "true" red, such as the red of the famous London buses. It might seem as though this bold type of red will make you look washed out, but it's actually a great colour for pale skin. Make sure that your lips are in tip-top condition by exfoliating them beforehand. You can do this easily by applying some lip balm and rubbing your lips gently with a soft flannel to get rid of any flaky skin.
Pastels
Pastels are another good look for English skin, especially if you have the traditional fair hair as well. Any pastel coloured eye make-up will generally work well, apart from pink. This will only make you look paler, as well as giving the impression that you've recently been crying. Neutral colours such as ivory, beige or grey will work well. A darker or completely contrasting colour along the eye socket and under the lower lashes adds to the look without being too overpowering. Deep rose, light brown and taupe are good examples. Follow with a coat of brown mascara to finish off, as it creates a softer look than the black variety.
For this look, stick to a light foundation and avoid using heavy powder. The idea is to even out your skin tone, whilst still allowing your natural complexion to shine through.
If you want to use blusher to brighten your overall look, pick a pale apricot or very pale pink variety for porcelain skin tones, and a slightly deeper pink for fair skin tones.
Keep your lips simple. Choose a rose colour and blot it until only a soft stain remains. Line your lips with a lip liner that is the same colour as your lipstick (or slightly darker) and finish with a coat of shimmery lip-gloss - the clear but glittery kind will work well for this look.
As a general rule of thumb, the best make-up looks for English skin involve keeping your base light with a hint of a healthy glow, teamed up with subtle eye make-up and glossy red lips. By keeping your eye-make up simple, you can really draw attention to your lips, and this will create a stunning contrast between your lips and your pale skin.
You might also like...