Perfumes and Toxins: How Safe is Your Perfume?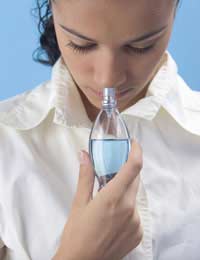 Most of us reach for our favourite perfume without a second thought, but have you ever stopped to think about what it might really contain? Many perfume companies add dangerous toxic chemicals and these won't always be mentioned in the list of ingredients as the manufacturers are not always obliged to list them all on the packaging. This can make it difficult or even impossible to know what's really in your perfume but there are some ingredients that are known to be potentially toxic.
Safety Concerns
When you use cosmetics or toiletries, experts believe that as much as 60 per cent of the product can be absorbed into your skin and can then enter your bloodstream. Petroleum-based chemicals such as artificial colours, fragrances and preservatives are believed to contribute to health issues such as respiratory problems, skin irritation, headaches and premature ageing and have also been linked to cancer.
Studies have suggested that synthetic musks and phthalates are two of the main culprits, and these are found in many popular perfume brands. Synthetic musks have been detected in human breast milk, which has led to concern that they may be dangerous. Phthalates such as diethyl phthalate (DEP) that are widely used in Europe have been linked to sperm damage in men. However, the Cosmetic Toiletry and Perfume Association (CTPA) advises that both synthetic musks and DEP are not currently a cause for concern after being reviewed by the European Commission independent Scientific Commission on Consumer Safety (SCCS).
The neurotoxin toluene is known to mimic the female hormone oestrogen, and is found in some perfumes. It is also thought to damage the liver, negatively affect the endocrine system and contribute to asthma.
The DEHP chemical is found in some perfumes and has been linked to testicular cancer. Further concerns flared up after a study of new mothers who had used perfume and perfumed products during pregnancy showed that some of their male children had problems with their genitals. In these cases, DEHP was found in the boys' bloodstreams.
Natural Alternatives to Synthetic Perfumes
If you're not convinced about the safety of synthetic perfume ingredients, you may be wondering if there is an alternative that you can switch to. Natural perfumes that contain essential oils made from plant and leaf extracts are a green alternative to the synthetic perfumes that we're most familiar with but there are some big differences between the two. Because they are entirely natural, the smell won't last all that long and can easily fade altogether after two to three hours. They also tend to be less intense in comparison to their synthetic counterparts as there are no artificial ingredients to boost the scent.
Where can you find these natural fragrances? Forget the High Street shops and the department stores as you won't find these scents gracing the shelves of the average John Lewis or Boots. Searching online is probably your best bet as they are not readily available in most off-line shops due to the overwhelming popularity of synthetic perfumes.
You might also like...
I am gravely allergic to perfumes in detergents, toilettries, room deodorizers.Because of the toxins in perfumes, MetLife has a policy that if an employee wears if to work, they can be terminated.The toxin is the chemical they use to make the scent last longer.Our government, as we all know, is remiss in protecting us from harmful chemicals, even in our foods.It's call 'kickbacks' and Nancy Pelosi loves it as her family owns one of the largest food companies in this country.She also loves outsourcing jobs.Your pulmonary physician will verify that this is why there is so much lung diseases in our children.Plugins are extremely dangerous, and body perfumes, because we like to hug our children. Because I care, I beg you...stop killing our children.
Castleberry
- 2-Mar-13 @ 7:11 PM