Choosing a Fragrance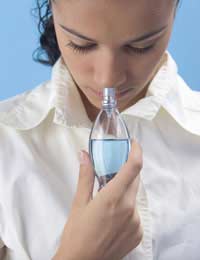 Choosing a fragrance that's perfect for you can be a bit of a nightmare. With so many to choose from how do you find the one that's right for you?
Try Before You Buy
Don't just buy a fragrance because you like the smell while it's still in the bottle. Everyone has their own natural scent that is unique to them, and this will affect how the fragrance smells once it's actually on your skin.
For similar reasons, don't be tempted to buy a fragrance because it smells nice on a friend. It will probably smell entirely differently on you, so it's always best to test it on yourself first so that you're not disappointed.
To test a fragrance on yourself, spray it on a pulse point. The inside of your wrist and the bottom of your neck are popular pulse points, but you can also spray the fragrance behind your ears, in your cleavage or behind your knees to get the same effect. The main advantage of spraying the fragrance on a pulse point is that the blood vessels run very close to the surface in these places, and this means that the heat will help to emit the scent. It also tends to last a lot longer than if it's sprayed on a part of your body that isn't a pulse point.
If you're anything like most people, you'll probably take one sniff of a fragrance once you've tested it on yourself before deciding whether you like it. This is often a mistake, as most fragrances take a few minutes to mingle with your own scent to get a true sense of how it will smell. Once you've sprayed the fragrance on a pulse point, wait at least ten minutes before you make a decision about it. Don't rub it into your skin though, as this will alter the true scent. As it's unlikely that you will settle on the first fragrance that you try out, many people resort to spraying a different fragrance on each pulse point. This obviously makes it very difficult to lose track on where each fragrance was sprayed. The scents can then start to mingle together, so you won't necessarily be getting a true reflection of how each one will smell on you. Your nose tends to temporarily lose its sense of smell after sniffing three to four fragrances, and can't smell the true fragrance after this.
Choosing a fragrance is also dominated by the types of fragrance that are available. There are several different types of fragrance, but the most common types are outlined here:
Perfume: Also known as parfum, this is more concentrated than other types of fragrance. This makes it last longer, but it is also makes it more expensive.
Eau de Toilette: As it less concentrated than perfume, the scent isn't quite as strong. It also tends to be cheaper to buy, and this is one of the reasons why it's the most popular type of fragrance.
Cologne: This describes a fragrance that is light and citrus-based. It is generally much lighter than perfume and Eau de Toilette.
Aftershave: This is even lighter than cologne, and is used to soothe the skin after shaving.
Aftershave Balm: This is mostly used to add a very light fragrance after shaving, as well as soothing the skin.
Choosing the right kind of fragrance doesn't have to be a minefield. Once you're armed with these simple tips, you will be much more prepared. Don't feel obliged to buy a fragrance just because the girl on the fragrance counter is pushing you to - she may get commission for it, but you're the one who has to part with the money and wear the fragrance!
You might also like...