Sourcing & Wearing Organic & Natural Perfumes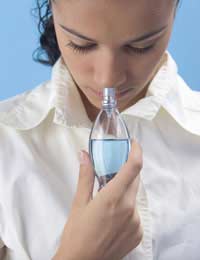 Many people have become concerned about using beauty products and toiletries that contain artificial fragrances, chemicals or preservatives, and this is one reason why organic perfumes and fragrances are growing in popularity, as they do not contain any of these manufactured ingredients.
Some organic perfumes are made from plants that have been harvested organically, but for the most part, the word "organic" refers to the fact that no chemicals have been added to the perfume. Because of this, they are also known as natural perfumes.
The main ingredients of organic perfumes are a combination of different essential oils (from plants), vitamin E (to act as a preservative) and alcohol (as a base). Organic perfume is also not tested on animals. This article discusses how to source and wear organic perfume.
Wearing Organic and Natural Perfume
Wearing organic perfume is much the same as wearing ordinary perfume. It's not advisable to buy any form of perfume without having tested it on your skin first. Perfume often smells entirely different from when it is in the bottle, as it interacts with your skin. This is why the same perfume can smell entirely different on two people.
You should leave at least ten minutes after first testing the perfume before deciding whether you like the fragrance or not. If there is going to be any adverse reaction to the perfume, it is most likely to occur within the first hour of wearing it. With organic perfume, there is less chance of developing an allergic reaction to any of the ingredients, as they are natural (and chemical-free).
The pulse points are the best places to wear your perfume. These include the insides of your wrists, your neck, behind your ears and behind your knees. The heat from the pulse point means that the fragrance will be stronger than would otherwise be the case. This is particularly beneficial for organic perfumes, as their scent tends to be less strong than their chemically-enhanced counterparts.
Storing Organic and Natural Perfume
Store your organic perfume in a place that is cool and dark, so that it does not "go off".
Aromatherapy Perfumes
Aromatherapy is increasing in popularity after having been on the back burner for a while. As it is also related to the use of essential oils, there is a crossover with organic perfume. Aromatherapy perfumes contain more extracts of essential oils than non-organic perfumes. As with organic perfumes, there are no chemicals involved.
Organic perfume often costs quite a bit more than non-organic perfume, but it is worth paying extra if you do not want your perfume to contain chemicals. As organic perfumes become more popular, the prices may well fall in line with that of other perfume types, so in the future, you may not have to pay a small fortune for organic fragrances.
As well as being kinder to your skin and body, they are more environmentally friendly too. Some stores also sell organic body sprays, but these also cost more than their non-organic counterparts.
You might also like...