Function and Composition of Skin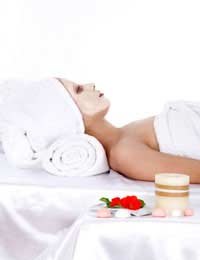 The main mirror of our health and well-being and the biggest age giveaway, skin as our protective covering needs treating with tender loving care, inside out. Everything from environment to hormonal imbalance and personal stress can change skin's appearance. The most expensive dream creams alone aren't enough to feed skin's needs: the secret to a clear complexion is understanding the basic structure and functions of skin, its personal triggers and temperament, so that when it seems out of balance you'll know how to restore it to radiance.
Face Facts- The Functions of Skin
Our skin is a mass of contradictions. Whatever its type and colouring, it can seem fairly delicate, yet is in fact resilient, self-healing and renews itself in the outer layer every 30 days. It is the largest organ of the body yet is just a few millimetres thick and a complex powerhouse of activity. Primarily protective, it keeps our internal workings intact, acts as a barrier to bacteria and foreign bodies and secretes natural waste through sweat. Together the sweat and the sebum combine on the skin's surface to form the barrier-like acid mantle.
A vital regulator of temperature, skin acts as our clever cooling system and a transparent measure - we flush when hot, thanks to blood vessels near the skin's surface dilating to allow more warm blood to circulate closer to the air to cool. When we feel peaky or cold and need to conserve warmth, the blood vessels can contract, so that the opposite 'drained' or pale look's produced. Sensation, of course, is a further purpose, with nerve endings in the dermis acting as effective reactors across pain, pressure, heat, cold and touch. It is worth noting that on the absorption front, only minute amounts of water and oil-soluble substances can get through, yet ultra-violet radiation can penetrate - for good as in the case of producing vital Vitamin D - or for bad, as we're aware with unsafe sun exposure.
On a less serious note, is it any wonder that it's our bottoms that show least signs of age, being least exposed to the elements?
What is Skin?
It's certainly multi-faceted but taking the beauty rather than the biological view, the composition of the skin can be likened to a cake of layers running from the outer epidermis, dermis 'filling' and sub-cutis connective tissue. Starting with the skin's outer layer, it is five layered again, main characteristics being thin in feel, but proactive despite lacking in blood vessels or nerves.
The Nutrient Factor
Deep within, new skin cells are continuously needed and formed in order to replace the constant shedding of surface ones above. The outermost layer is made up of a flexible protein keratin, constantly shed and replaced by the latest cells yielding upwards. New skin cells are nourished by the dermis below and if nutrient starved, will be poorly formed and therefore by the time they are the top dead layer, will appear far from flawless. However, if they have been 'fed' from the start, skin will be smooth and plump, soft and hydrated. Equally, it is important to properly remove the day's make-up so that skin cells can flake off without oil and cosmetics clogging the process. At the same time, the skin's pH between 4.5 and 6 needs to be preserved and not stripped with harsh, dehydrating products.
Keeping Skin Supple
The thickest, innermost section of skin is the dual layered dermis, home to several vital structures. A mesh of twin proteins, collagen and elastin fibres together give skin its contours and elasticity. As we age, so these deteriorate. The rich mix including sebaceous glands, nerve endings, hair follicles and essential blood vessels - conductors of nourishment to growing cells, all co-exist. Sebum given out from the sebaceous glands lubricates skin and slightly acidic in content, is in effect, anti-bacterial. Hormonal activity dictates the amount of oil the glands produce. Should oil emitted from the pores be overly plentiful, greasy skin and potential spot eruptions are the result. If production's on the poor side, the complexion will be parched or even scaly.
Within the Skin
The third layer of skin is a connective tissue dividing the dermis from the muscular layer. With a rich blood supply and the majority of fat cells, it's a site that acts as some natural damage limitation to underlying structures.
You might also like...