Preventing & Treating Stretch Marks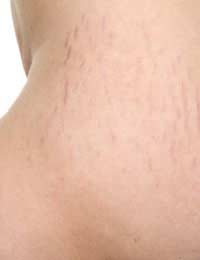 If you've got stretch marks, chances are that you're very keen to get rid of them. Despite the myriad of advertising for products that claim to erase stretch marks for good, there aren't any miracle cures that can live up to the promises. That said, you can take some steps toward treating stretch marks and reducing the likelihood that new stretch marks will crop up.
What Are Stretch Marks?
Stretch marks are usually red or purple in colour when they first appear, and fade to a silvery-grey shade over time.
Why Do Stretch Marks Occur?
As their name suggests, stretch marks develop when the skin is stretched over a relatively short time period. In this scenario, the dermis (the middle layer of the skin that helps skin to maintain its flexibility and firmness) can experience breaks and allow some of the skin underneath to become visible. Stretch marks are common during puberty (when many teenagers experience a growth spurt) and when you've gained weight quickly, such as during pregnancy (as the bump expands and stretches the stomach on the skin). As a general rule of thumb, stretch marks are more likely to develop if your skin doesn't contain much collagen and is therefore less elastic.
Where Do Stretch Marks Occur?
You can develop stretch marks anywhere on the body but the stomach, bottom and thighs are some of the most commonly affected areas.
Treating Stretch Marks
There are a wide range of products that claim to be able to fully eradicate stretch marks or reduce their visibility. These can have some positive effects when stretch marks are relatively new and still in the purple or red stage but it's extremely difficult to treat stretch marks that have already started to fade.
Laser therapy can go some way towards fading stretch marks but it's unlikely to be able to fully remove stretch marks. It works by sealing the blood vessels so that the stretch marks begin to fade more quickly. As with creams, lotions and oils, this works best on stretch marks that are relatively new. Once they have started to fade, this form of treatment is considered to be largely ineffective. The main downside of laser therapy for treating stretch marks is the costs. It's not available on the NHS and private treatment sessions can soon become extortionate as multiple sessions are needed to have the best chance of success.
Preventing Stretch Marks
There's no miracle cure to prevent stretch marks from ever forming, but there are some things that you can do to reduce the chances that new stretch marks will occur.
Watch your weight: Because stretch marks often develop after you've gained weight quickly, it makes sense to avoid fad diets that cause you to lose weight initially and then put it back on again once you've ditched it. Aim to maintain a constant weight so that your skin is less likely to be stretched. If you do decide to diet, do so at a sensible pace and lose weight more gradually.
During pregnancy: How quickly you gain baby weight during pregnancy is largely out of your hands but you can have some effect by eating a healthy, balanced diet to minimise how much extra weight you put on beyond that.
Stretch mark prevention products: Some products claim to have stretch marks prevention qualities but it's debatable how well they work in reality. The act of rubbing in creams and oils can help to make your skin a bit more elastic but there's not much that you can do to prevent stretch marks caused by pregnancy weight gain or growth spurts at puberty so these products can be a big waste of money.
You might also like...