Body Buffing, Moisturising and Sculpting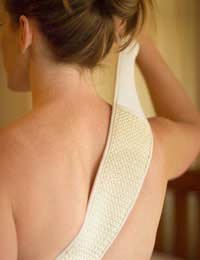 Knowing Your Skin
Your skin is the largest organ in your body and it deserves your best care and attention. The average thickness of your skin is about a 10th of an inch, with the thinnest skin on your eyelids and inner folds of your elbows and the thickest skin on your upper back, the palms of your hands and soles of your feet. The outermost layer of your skin is called the epidermis. The main types of cells which make up the epidermis are keratinocytes - cells that synthesize keratin. The middle layer, and majority of your skin, is the dermis. It includes strong white fibres called collagen and elastic yellow fibres called elastin. Blood vessels, muscle cells, nerve fibres, lymph channels, hair follicles, oil glands and sweat glands run throughout the dermis. The subcutaneous tissue or bottom layer of skin is mainly fat. It contains your skin's nerves and blood vessels, as well as the roots of your oil glands and sweat glands. It holds in body heat and protects your internal organs from injury.
Body Buffing
Body buffing scrubs can improve both the body's texture and tone, particularly on areas such as the thighs, arms and hips. Some scrubs contain fruit acids and enzymes which can also reduce the appearance of dimpled skin and help disperse cellulite build up. Common ingredients in body buffing products are:
Exfoliants
Exfoliants are products containing one or another type of acid. They are used to remove the thin layer of dead cells on the surface of your skin. Common exfoliants include alpha hydroxy acids such as:
Glycolic Acid: which comes from sugar cane. It is good for most skin types, except for really sensitive skin. It's the most common AHA on the market.
Malic Acid: which comes from apples. It is not often used alone, but usually is in a blend of 3 or more AHA acids.
Lactic Acid: which comes from milk. Lactic acid is great on sensitive skin.
Citric Acid: which comes from citrus fruits. It can be very irritating if not in low concentrations or in a blend with other acids.
Tartaric Acid: This only comes in a blend.
Beta Hydroxy Acids are another common exfoliant. The only BHA is salicylic acid.
Moisturising
Under ordinary circumstances 95 percent of each of your cells is made up of water. It is the water content of your skin that determines how moist or supple it is. Avoiding dry skin is one of the key elements in good skin care. Moisturisers help in hydrating your skin by preventing the water from escaping or by slowly releasing water into your skin. The most affective moisturisers are those that contain collagen, herbs like Gotu Kola, Flame of Forest, and Sensitive Plant, as well as biological oils.
Body Sculpting
Sculpting creams are designed to tighten loose skin anywhere on your body, including knees, stomach, elbows, legs, neck. They can also be used to prevent sagging skin. Sculpting gels containing active ingredients aminophylline, yohimbine HCI, coleus forskolin extract have been shown to be effective at spot reducing body fat.
You might also like...