Hands and Feet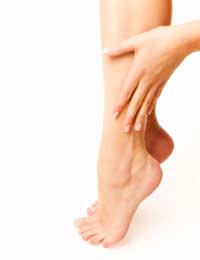 Keeping Your Hands Looking Young
Most people use their hands every day, yet many people don't take proper care of them.
The condition of the skin on your hands can give your age away as easily as the skin on your face, so it's important to keep your hands looking young and wrinkle-free. Signs of aging on your hands include:
Thinning skin
Age spots or blemishes
Spider veins
Skin experts recommend treating your hands just the same as you treat your face.
Exfoliate to prepare your skin and to get rid of all the dead skin and dirt.
Apply a moisturiser by rubbing the back of your hands together. This will keep your palms grease free and concentrate the moisturiser where it's really needed.
Wear gloves when washing dishes or gardening.
Apply sunscreen daily and moisturise several times a day.
Taking Care of Your Nails
Your nails reveal a lot about your overall health. Broken, discoloured or misshapen nails can be a sign of nutritional deficiencies, infections or skin conditions. Good nail care keeps your hands and feet looking good and should be part of your regular program of healthy habits. Here are some tips for caring for your nails:
Keep them clean and dry. This helps prevent infection.
Shape them straight across rather than to a point. Pointed nails are weaker and can break more easily.
Do not bite or pick them. Bitten nails are more easily infected.
If you use nail varnish use an acetone-free remover on a pad of cotton wool, but don't rub. Press the pad against the nail and then wipe away from the cuticle to the tip.
Use a cuticle pusher or orange stick to gently push the cuticle back from the nail.
Caring for Your Feet
Your feet mirror your general health. Symptoms of many conditions such as arthritis, diabetes, nerve and circulatory disorders-even AIDS-show up first in the feet. Trim toe nails straight across with clippers; they should be slightly longer than the tips of your toes. Also examine your feet for dry skin, bruises or abrasions and don't ignore problem areas. When choosing shoes, pay less attention to style and more to a good fit. Shop for shoes in the afternoon because feet tend to swell as the day goes on and have your foot measured, while you're standing, every time you buy new shoes.
Tips for Foot Care
Wear flip-flops in public showers such as in camping grounds and gyms to help prevent you from contracting athlete's foot.
Wash your feet twice daily and dry them thoroughly, particularly between your toes. Use a clean towel.
Change your socks daily and wear cotton, not synthetic, socks.
Wash your socks and towels at a high temperature (hot cycle on washing machine).
Wear well-fitting leather shoes that allow your feet to 'breathe' (synthetic shoes tend to increase the amount of perspiration) or wear open shoes or sandals to allow air to circulate freely.
Bleach your shower/bath area.
When applying corn or verruca medication, make sure it does not get on the healthy, unaffected skin.
You might also like...