Advice When Shaving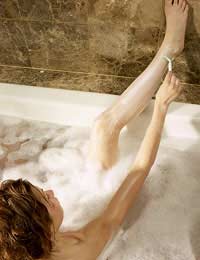 If the thought of waxing fills you with horror, shaving is probably a better option. The effects might not last as long as waxing, but it's a lot less painful if your pain threshold is low!
Where Can I Shave?
Unlike waxing, you don't need to wait until the hair is a certain length to shave - you can shave as soon as you feel the tell-tale stubble on your legs and underarms. Shaving the bikini line is less advisable given the delicate area that it covers. If you feel that hair needs removing from your bikini line, waxing is a better option if you can stand the pain!
When is the Best Time to Have?
You might not think it, but the time that you shave can make a lot of difference. Shaving at night is best, rather than in the morning. As well as getting rid of hairs, shaving also strips the epidermis (the top layer of your skin), which can make your skin feel dry and uncomfortable for the rest of the day. If you shave at night, your skin can heal itself overnight.
Where is the Best Place to Shave?
Shave during a bath or shower as the hot water will make your skin more elastic and makes the hair less coarse. This can make your razor blades last longer, as well as making shaving less of a hassle in general.
Shaving Gel or Soap?
Use shaving gel or cream once the hair is wet enough, as this works much better than soap and is kinder to your skin. Look for varieties containing aloe vera as these are less likely to irritate your skin. Always use enough to fully cover the area that you're going to be shaving and leave it on for two minutes to give it time to further soften the hair. This will make shaving even easier as the razor will be able to slide easily across your skin. Using shaving gel or cream instead of soap will give you a closer shave, as soap isn't an effective lubricant. Because of this, you might find that the razor doesn't cut the hair directly at the roots if you use soap, which ultimately means shaving more often than would otherwise be necessary. As you don't get such as close shave, shaving with soap and water also increases your chances of cutting yourself and experiencing 'shaving rash'.
How Can I Stop Cutting Myself When Shaving?
Most women cut themselves when shaving at least once, but there are ways to prevent unsightly nicks. If you follow the above advice about getting a close shave, you're less likely to cut yourself, but you still need to take care when shaving areas where the bone is close to the skin. Your ankles, knees and shins are good examples of this. These are the areas where you're most likely to cut yourself so it's important that you don't apply too much pressure to these areas.
If you do cut yourself, move away from the bath or shower straight away. It's always tempting to run the shower over the nicked area or keep your leg underwater in the bath to stop the bleeding, but this will rarely happen. Hot water actually stimulates blood flow, so you're actually encouraging the wound to keep bleeding! It's far better to dry the cut and cover it with a plaster.
You might also like...