Bathing Basics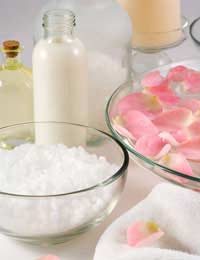 Whether you've had a stressful day at work, you've been labouring in the garden, or you simply want a quiet few moments to yourself, your bathroom can be a heavenly sanctuary. If you love soaking in the tub, then you need to be aware of the variety of products out there to help you submerge yourself in soulful relaxation.
Bath salts and Foam Baths
All natural therapeutic blends of dead sea salt and Epsom salt can help to re-mineralise your over-fatigued body. Brands that contain essential oils of peppermint, geranium and sage can stimulate the mind, balance your body and help to boost a weakened immune system. Natural algae and seaweed rich bath gels can also be promote wellness for those recovering from recent illness. Seaweed is one of nature's body balancers. Not only is seaweed bath an excellent way to take in iodine, (which is great for the thyroid gland), it releases toxins from your system and rehydrates your body. The electrolytic magnetic action of the seaweed releases excess body fluids from congested cells and dissolves fatty wastes through the skin, replacing them with depleted minerals. A green tea bath can also be a great healer, and also rehydrates your skin.
Essential oils
Essential oils are a great way to enhance your bath time experience, not only do you get their benefits through your skin but also through inhalation. Mix no more than five drops of your favourite oil with some milk or a carrier oil such as almond oil and add it to your bath water. Here are some suggestions:
Black Pepper - relief for aching muscles
Clary Sage - as a pick me up and premenstrual tension
Eucalyptus - for respiratory problems
Geranium - for dry or itchy skin, eczema and PMS
Lavender - dry skin, eczema, sprains, hot flashes, headaches, over work, insomnia
Orange - relaxes
Rosemary - to get you going in the morning, good for aches and sore muscles
Chamomile, Lavender and rose - good for dry, delicate or irritated skin
Rosemary, Calendula and Thyme - good for oily skin
Citrus & Lavender - soothing and therapeutic properties
Ylang Ylang - exfoliates and moisturises the skin
Chamomile - aids in relief of aching muscles and nervousness
Eucalyptus - opens the pores and the vapours from the bath help to clear the breathing passages
Bath milk
You can recreate Cleopatra's favourite beauty therapy in your own private oasis with bath milk. Bath milk moisturizes and helps condition the skin. Most bath milk products contain glycerin which is an effective moisturiser that helps improve softness and maximise hydration.
Bear in mind that even a ten minute soak in the bath will reduce your skin's ability to retain moisture for up to five hours. So remember to use a good rehydrating moisturiser containing humectants like glycerin, afterward and apply it while your skin is still slightly damp.
You might also like...