Skin Cancer Prevention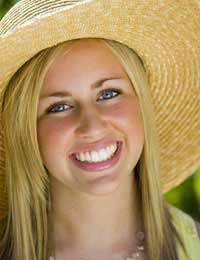 Skin cancer is now one of the most common cancers in the UK. Every year around 75,000 people are diagnosed, with approximately 2,300 of these cases proving fatal. The true extent isn't actually known, as not every case is reported, and therefore can't be diagnosed. In addition, the cases that are easily treated are often omitted from the statistics.
What is Skin Cancer?
Skin cancer is caused by repeated exposure to direct sunlight. The UV (ultraviolet) rays from the sun damage the skin, and can weaken your immune system over a long period of time.
Skin cancer usually falls into one of three categories:
Melanoma This type of skin cancer is usually easily treated if it's diagnosed early enough. It accounts for approximately 3% of all skin cancers.
Malignant Melanoma This type of skin cancers accounts for 5% of all skin cancers, and is often fatal as it spreads quickly. It often strikes younger people than the other types of skin cancer, and can affect any part of the body.
Non-Melanoma This is the most common type of skin cancer in the UK, and happens because UV light damages DNA cells in our bodies. The most common type of non-melanoma skin cancers are cell carcinomas (basal or squamous). These don't usually prove fatal, and as they don't spread as easily as malignant melanoma, it is easily treated.
Who is at Risk?
Almost anyone is at risk of developing skin cancer if they don't protect themselves against the sun's damaging UV rays, but you're more at risk if you have any of the following characteristics: pale skin, fair or red hair, lots of freckles and moles, and a family history of skin cancer. If you use sunbeds, this also puts you at a greater risk.
How Can I Prevent Skin Cancer?
There are plenty of steps that you can take to reduce your chances of developing skin cancer further down the line.
Limiting your exposure to direct sunlight is one of the most important steps to take. Just fifteen minutes of sunlight two to three times a week will provide the Vitamin D that you need, so you don't need to spend hours sunbathing. This is usually the point at which you start to feel your skin burning and reach for the sun cream, but the damage is already done. Ideally, you need to slap on a thick layer of sun cream around 15-20 minutes before you go outside, and reapply at least once every two hours - more if your sun cream is being sweated off, washed off or rubbed off on clothing or towels.
Opt for the highest sun cream with the highest SPF (Sun Protection Factor) you can find. Experts recommend at least SPF 15, but this will only offer limited protection. The best on offer is SPF 60, and this will give you 98% protection.
The hottest part of the day is between 11 am and 3 pm, so staying in the shade during this time is a good idea. Cover up with a t-shirt, wide-brimmed hat and sunglasses to give as much protection as possible, and don't skimp on the sun cream just because you're out of the sun - you can still burn very easily.
Keep an eye on any moles you might have on your body, and report any disturbing changes to your GP. Things to look out for include asymmetry (if the two halves of your mole don't match up), jagged and uneven borders, an uneven colour, bleeding, itching, pain, crusting, scabbing and a diameter of over 6 mm. If your GP is concerned about the appearance of the mole, he or she will refer you to a skin specialist. There is also the option of going to a private walk-in centre, but the staff aren't always medically trained.
Being sensible in the sun will go a long way towards preventing skin cancer. You might not be able to reverse the damage that's already been done, but you can stop any more being done in the future.
You might also like...