Defining Skin Type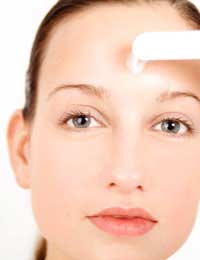 Though everyone's skin structure is the same, the essential oil and water ratio that creates any one particular type can vary remarkably. Dividing skin into either side of normal - from dry to oily, combination to sensitive - is done for good reason and is not just pure beauty industry ploy. Different types of skin do have different requirements. Whatever our skin type, it is not a constant and needs re-defining regularly to keep it in its prime. It reflects both our lifestyle and changing factors such as our age and the passing seasons. Skin 'typing' is about restoring the natural harmony whatever stage skin is at. To categorise how your skin appears today, take the morning complexion test. After a typical night's sleep, scrape the hair away with a headband and study your face in the mirror based on the characteristics that follow. As a back-up, wash your face with a mild, unperfumed soap. Rinse and dry as usual but do not add any skin or make-up products. Check when skin has had a chance to settle a couple of hours later.
Normal Skin Type
Smooth with a bloom, blemish-free, its underlying functions are in balance as the surface is neither greasy nor tight. A rare type these days, it has limited product needs and doesn't take much to keep it in optimum condition. How to Maintain: With a 'don't mend it if it isn't broken' approach to skincare - stick with what works for you.
Dry Skin Type
Dry skin equals dehydrated skin. Parched for moisture to restore elasticity, it can look anywhere between dull, grey, flaky and prematurely lined. Skin becomes more dry the older we get and more prone to the effects of external factors. This type's plus points are pores that are fine and the overall texture once restored, can be soft and dewy. Guard against the appearance of tiny veins and dryness flaring into flaking, cracks or worse.Blemishes are exceptional as a rule and their appearance is a severe sign of dryness.
Dry Skin Tip: Choose your skincare regime with care - the more simple, gentle and organic the better. Avoid stripping skin with abrasive products and don't mix and match ranges. Nourish from the inside out with selenium-rich brazil nuts, soaked almonds, Vitamin E full avocados, salmon and evening primrose capsules. Boost sluggish circulation with aerobic exercise.
Oily Skin Type
Though supple to the touch, this type has a shiny sheen due to over-active production of sebum. Pores are often obvious and blocked with blemishes and blackheads as a result. Note that blackheads can be gently steamed and squeezed out though the large pores will remain. If totally blocked an oil build-up under the surface can occur in acne spots - which to prevent infection and scarring, absolutely must be left alone to heal or treated topically. This type must be monitored but has the advantage of remaining youthful and wrinkle-free the longest.
Though skin is resilient, excess oil must be gently removed or the sebaceous glands will go into further over-activity. You can take mild soaps and natural antiseptic preparations to begin clearing and normalising your skin. Oily Skin Tip: Invest in a specialist, non-comedogenic (non-blocking) skincare brand that's kind to your type - look for ones featuring facial steam bath and mask preparations to draw out impurities. Drink your way to clear skin - still water, antioxidant packed green tea - and eat more carrots and greens.
Combination Skin Type
Perhaps the most common skin type, this can be hard to handle until familiar with its initially dual, needs. It can come in any mix such as normal/combination, dry/combination, normal/dry. The 'secondary' skin condition will arise in certain areas such as an oily 'T' zone or dry cheeks. Depending on your own needs, book a consultation from a recommended skincare range to learn how to manage your skin's juggling act. It may be a case of at the same time activating the skin's natural moisturising processes while regulating the oil content.
Combination Skin Tip: Until skin shows signs of becoming 'at one', you will need to treat the parts separately - careful cleansing of oily sections, moisturising the dry. Consider any lifestyle changes that could be triggering a mixed skin reaction. A more holistic approach could be the key to balance.
Sensitive Skin Type:
This is often a delicate skin condition that goes with very fair skin and 'dramatic' colourings of red, dark or blonde hair. It is recognisable by its swift and strong reaction to stimulus - from products to change in circumstance and the seasons. Vulnerable to rashes, allergies, sunburn and blotches, it needs extra protection and bringing back to neutral. Sensitive Skin Tip: Avoid 'break out' conditions such as extremes of heat, perfumed cosmetics, known allergens, chemical exposure. If specific triggers aren't known, keep a diary to discover possible irritants. Sensitivity in the form of redness is due to heightened blood flow to the skin's surface. Seek specialist help to redress but lessen aggravation by avoiding extreme conditions and spicy foods.
Any Skin Type Refining Tips
Check out product ingredients used by your usual skincare and cosmetic brand - some may not agree with your skin type, even some natural ones. Some of the usual chemical offenders include propylene glycol - an extraction solvent linked to some allergies; ethanolamines - pH regulators linked with skin irritations and some silicones, by nature synthetic and non-biodegradeable. Something triggering you? Change brands and look for ones dermatologically tested. If you need further advice, see a dermatologist.
It takes around three months for new skincare products to take effect, which ties in with the seasons. Try to change products before the start of a season.
You might also like...