Skincare Through the Seasons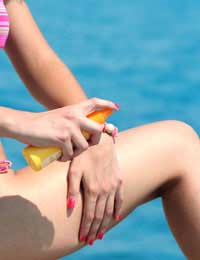 Summer Skincare
Blame it on the changing ozone layer, but no matter how much you love the sun-kissed look, the sun must be taken seriously and enjoyed safely. This is especially true where the fair-skinned and of course children, are concerned. Experts now identify six different skin type graded as Type 1 - very fair/freckled and sun intolerant, through to 6 - naturally brown-black, as a guide to how to treat your skin in the sun. The higher the ultra-violet or UV index, the greater the sun's strength - and less time it takes for sun damage to begin.
Sunscreen protection alone - even the highest factor - is not enough and healthcare manufacturers report, are worryingly still not used wisely. An average sun-drenched holiday should mean the use of a bottle per week. Don't forget that products 'melt', even in UK sunlight, so repeat application's essential. Risk-prone skin needs covering up altogether with big movie-star sun-hat to protect scalp and face and boring but true : during peak hours, most types should seek shade.
Smart Sun-safe Products
No sunscreen blocks out all of the sun's rays. Health reports suggest that the best defence comes from those that 'sit' as a protective film on the skin - that rubbing them in can make them far less effective. The UVA rays are the ageing ones, UVB the burning variety; both need respect. Opt for natural, photo-stable sunscreens that protect containing zinc oxide and titanium dioxide. They work by reflecting UV radiation, where chemical filters tend to absorb it. It makes sense to opt for brands with mineral and vitamin rich levels as they help reduce the dreaded and ageing, leather-skinned factor. As mineral ones are not absorbed by the skin, they are also less likely to cause irritation or allergy. If in doubt about the factor, go higher. As skin on face and hands is more delicate, lavish them with a separate, higher factor sun-block. Sun-block should be the last product to go on the face following moisturiser and foundation. Make sure all skin products are compatible.
As after sun care and great nature's healers, try cooling aloe vera gel or live yoghurt, in the tradition of wise Greek grandmothers! Its protein rich mix soothes sunburn by increasing the water content of the top layers of the skin, calming redness.
Sun Safe Tips:
Thin or sensitive skinned? Avoid eating too much citrus fruit and tomatoes - thought to sensitise skin in the summer months. Stick to body cooling 'pulpy' fruit such as melon.
Cancer Research UK advises we all learn our skin type in relation to the everyday UV index - especially between April to September in the UK when the index starts rising above the average level of 3. We can then learn when to protect and safeguard our skin in relation to the strength of the sun.
Check out any out of the ordinary skin changes or mole growth with your GP.
Winter Skincare
As the seasons change, so should your skincare regime. Just because there's cloud around and it's anywhere between October to March, doesn't mean that careful skincare doesn't count as much. Yes, the skin cancer risk factor's definitely less, but there's other potential skin harassment to be aware of. Harsh weather can lead to windburn, which in turn can be made worse by sudden shifts of temperature from outdoors to skin-sapping central heating indoors.
Lack of sunlight can make any skin look tired, stressed and grey. Counteract by adding home-made chicken broths and clear green teas to your diet. Exercise as much as possible to boost vital blood flow for skin glow and treat skin to weekly face masks and packs to nourish. Remember on 'Indian summer' days to still apply sun-block and that city dwellers need additional pollution protection.
As for night skincare, there are two branches of thought. The usual line is to use an enriched night cream with ingredients intended to work overnight at feeding depleted skin. They don't do any harm as working sebum style, give a protective coating that may help to lock in water content. Dermatologists, however, would say be wary of any inflated ingredients list, that anything more than a basic oil, wax and water mix would by nature of the skin's defence system, be unable to properly penetrate.
A further intriguing, holistic angle is that skin any time of year needs help to stimulate its own self-renewal process overnight. Therefore if constantly given rich creams, the theory is that it would over time, become more needy on them. A way of working not 'on' skin's symptoms but with skin's own rhythm, is promoted. If this skincare school of thought strikes a chord, the homeopathic approach to beauty could be for you.
Winter Skin Tips:
It's a time for cold sores and chapped skin. Depending on severity, blitz with anti-viral topical preparations or dab on natural antiseptic tea-tree oil or skin healing manuka honey.
Central heating can be not so much cosy as claustrophobic to skin. Try the thermostat lower and as humidifiers, keep small bowls of water by radiators.
Follow this safe and sensible skincare regime that you can adopt whatever the weather.
You might also like...