Skincare-Teens to Thirties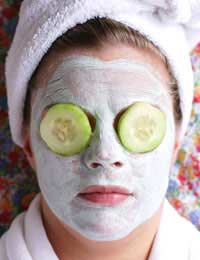 Youth alone can't guarantee a dewy, flower-fresh complexion. In your teens and early twenties, you are in effect, growing into your skin and may experience problems along the way. Breakouts and acne can be constant enemies - not to mention a severe embarrassment. With hormones all over the place, the wrong kind of food intake could exacerbate the cycle. Diet and skincare lessons learned now can last a lifetime and reset the skin's pattern. Start by addressing the diet. Cut out fatty foods that lead to toxin overload in the lymphatic system. If the system becomes sluggish, the waste materials clog and the facial result as the end point in the digestive process, can bring the double negative of blemish-free sallowness. A balanced, wholesome diet is essential to keep skin clear. If spots are a regular occurrence, try drinking a few drops of freshly squeezed lemon in water every morning. Skin condition is likely to be changeable so by seeking to stabilise the overall diet, the external organ of the skin should gradually respond in kind.
Tempting though it is to try to scrub away impurities with abrasive exfoliators, tread carefully - and never pick at skin. Recognise what products act as irritants - towards burning, tightening, worsening skin - and which calm it down. As in cleansing inwards through good diet, external deep down cleansing is the most vital skincare step. Blemishes love pores blocked with waste, stale make-up and dead cells. Gentle trial and error will find your best method of cleaning. As a rule, very young skin benefits from the simple approach of basic, kind, unperfumed products. The best idea may be for a skincare consultation with a brand that specialises in young skincare with sweet to the skin ingredients.
Young Skin Tip:
At this age, keep make-up to a minimum - never as a mask to cover imperfections beneath. Young skin especially, needs to breathe.
Hit your thirties and with environmental factors to various life changes, skin can start to look thirsty. It's a midway time when skin loses its previous lustre but cell turnover is yet to slow down completely. Treat it as stock-taking time for skin, a phase for going back to basics. Is your usual cleanse, tone and moisturise routine still working for you, for example? Or is it in need of a significant change? On the hydration front, skincare specialist Eve Lom says that no amount of cream compensates for fatigued skin or dark under eye circles. Congested skin needs detoxing and yet again, it comes down to intake of that pure liquid asset, water. Get into creating vegetable juices and smoothies to further kick-start stagnant skin from within. Inner side sorted, you can then concentrate on the outer canvas to face the future beautifully.
Upgrading exfoliating and eye skincare can work wonders at this age. Exfoliation an act as an important prompt to sluggish skin - by shedding the top layer's dull, dead cells. Those with beta-hydroxy acids apparently help skin products to penetrate better.
Now's the time to eye up your eye area which could be starting to look less defined, slightly lined. The most expressive and ultra-fine part of the face, eye skin has less strengthening collagen and elastin. Without much sebum back-up here, the area's naturally dry and puffiness to dark circles can arise, due to tiredness or toxins.
Invest in a light treatment eye cream that combats any such problems - heavy ones or your own heavy application can add to puffyness. Plant extracts and enzymes, such as eye-bright, camomile and horse-tail, act to tone and decongest. To prevent eye irritation, look for products that are opthalmologically tested and hypoallergenic. Gently tap in a rice grain sized amount of cream under the eyes morning and night to aid smoothness. If your work's computer-oriented, take a break away every two hours. Relieve tired eyes with a 10 minute lie-down and slices of cucumber, witch-hazel soaked pads or rinsed green teabags.
30s Skin Tips:
Jawline showing signs of slackening? Try this firming exercise. Sitting on an upright chair, hands on knees to support, gently tilt head back. Open mouth wide then shut mouth while in the same head position, before gently bringing head back. Repeat five times - but avoid if prone to blood pressure or migraines.
These are the busy years but putting in 'me' time in your diary can mean vital time per week needed to beautify and maintain skin.
You might also like...