Care for Your Colouring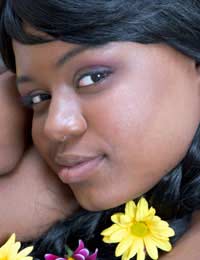 Often like a genetic blueprint, our colouring is our signature and each skin type has its own innate beauty, with different needs and characteristics. Skin colour can change in shade due to age or illness, environment or even unsuitable product use. At base, wherever you lie on the light to dark-skinned scale, is determined by how many pigment creating melanin cells your skin contains. The overall hair and eye colour not only personalise your look further, but in fact, should be factored in when it comes to caring for your particular colouring.
The Colour of Skin
Though obviously different gradations exist from person to person, skin colour can be generally sectioned into the following categories, each complexion with its own set of plus and minus points to consider:
Caucasian Skin Colouring
The lightest and most delicate of all types, this is the least resilient and often needs the most care and attention. It can range from pure porcelain to peach and sun-enhanced golden. Those with celtic colouring - dark or red hair, light eyes and pale skin - have the most sensitive skin composition of all. Pink or yellow skin tones determine the depth of lightness.Tip: UV rays penetrate your skin easily and can damage living cells, leaving behind sun damage, dehydration, age spots, lines and lack of elasticity. When you deeply sun-tan, it is really a sign of skin's self-defence melanin system kicking into action. Meaning you're actually going against your skin type by trying to tan in the first place. Best to remember that roses wither in the sun and so does an English Rose complexion. Value your skin's unique condition and consider cultivating a pale and interesting look instead!
Oriental Skin Colouring
More enduring than its Caucasian counterpart, it is generally of one even, yellow undertone. Though more melanin is produced in this type, care still has to be taken regarding ultra-violet over-exposure. Pigmentation discolouration could be a problem in this case.
Tip: Though generally given to ageing well, this skin can be prone to excess oil and break-outs. Counteract by keeping diet less processed and skin stressing, more skin clearing: think an increased intake of filtered water, vitamin rich berries, fresh fish.
Asian Skin Colouring
A strong and versatile skin composition that's often variable and uneven in colouring. Based on a yellow undertone, it can retain under-eye dark shadows and scarring can lead to slow to heal pigmentation changes. A tendency to excess facial hair can be challenging.
Tip: As the eyes are the focus of the face, don't let any shadow effects spoil them. Aim for a regular sleep pattern to minimise dark circles. As for unwanted hair, the Asian tradition of threading is the easiest, most effective form of treatment. By removing from the root, over time less profuse hair grows through.
Black Skin Colouring
In its favour, the slowest of all skin types to show signs of ageing, thanks to its high protective melanin quotient. It perhaps has the widest spectrum of colour tone from brown through to ebony. However, scarring can leave dark marks that take time to fade.
Tip: Due to the wide variation available in this skin colour, choose specific skincare and cosmetics that match your own tone and texture, rather than that of black skin in general. Be wary of using any skin lightening products - often dangerously abrasive in content, they can strip skin and leave it irreparably harmed. Like all types, better to be true to, and cherish, your own natural colour.
You might also like...