Hair Removal by Threading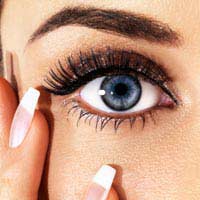 It's been popular for some time in the Eastern world but it's fair to say that threading hasn't been a particularly well-known form of hair removal in Western countries until relatively recently. Things are changing now though, with threading fast becoming a preferred way of achieving longer-lasting hair removal in small doses.
What is Threading?
Threading involves using cotton threads to literally create a "lasso" motion to remove unwanted hair at the roots. Because threading is such a time-consuming and intricate process, it's only used on very small areas such as the eyebrows.
Advantages of Threading for Hair Removal
There are several pros to using threading to remove hair. Threading benefits include:
Intricate shaping ability: With threading, there is much greater scope to accurately shape brows – even in comparison to using tweezers – so it's often the top choice of hair removal by those who struggle with out-of-control brows.
It's completely natural: No chemicals are involved in threading – it's just you and the cotton.
Minimal irritation: Because the cotton doesn't touch the skin during threading, there is less irritation in comparison to having your eyebrows waxed.
It's ultra-quick: Not every threading technician is the same but as a general rule of thumb, threading can be completed in a matter of minutes. Because each hair is pulled out in the blink of an eye, any discomfort you feel is minimised.
There is scope for permanent results: Because threading involves pulling hair out at the roots, repeated treatments can eventually weaken the hair follicles to the extent that the hairs don't go back.
Disadvantages of Threading for Hair Removal
While there are some great bonuses to threading, it isn't without its downsides. Some of the disadvantages of threading can include:
Damaged hair follicles: If the technician performing your threading treatment isn't a trained and experienced professional, you may find that the hair is merely broken off rather than removed from the roots. If this happens, the hairs can grow back at a much quicker rate than expected.
It's vital to find a qualified technician: Because threading is such an intricate treatment, you definitely need to make sure that your technician knows exactly how to perform it. An inexperienced or unqualified technician can cause a lot of extra distress and pain for no added gain. It takes years to become suitably experienced at threading so it's always wise to query how much experience a technician has before you let them loose on your brows.
The Cost Factor
How much can you expect the average cost of threading treatments to be? Don't be put off by the fact that threading is such a precise form of hair removal. Threading treatments at reputable salons can cost as little as £17, but a lot will depend on how much shaping your brows will need. A treatment to remove just a few unruly hairs will obviously cost less than a complete re-shaping. It's likely that the latter will require more than one treatment session, which will bump up the costs.
You might also like...