Tips for Taming 'Afro' Hair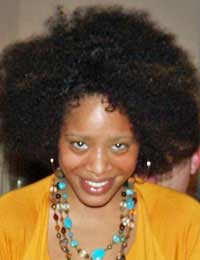 Afro hair can be notoriously difficult to tame but it's not a lost cause. Your hair may look frizzy and dull but you can counteract these complaints by following a haircare regime that flatters Afro hair.
Use targeted products
Haircare products that are specifically formulated for Afro hair are the best option as these are the best suited to your hair. These usually contain moisturising ingredients that care for Afro hair and prevent it from losing essential moisture.
Don't shampoo too often
Afro may look strong, but it's actually quite weak and won't respond well to being washed too regularly. Washing your hair too often strips its natural oils and makes Afro hair more brittle and prone to breakage. Washing your hair once a week will keep it clean without making it too dry and gives your hair chance to recover between washes. Some women with Afro hair prefer to forgo shampoo altogether and wash their hair with a deep conditioner instead. This keeps your hair nourished without stripping away natural oils.
When you're washing your hair, take care not to let your hair get too tangled. Instead of piling your hair on top of your head when massaging in the shampoo, let your hair fall naturally and work the shampoo down the length of your hair.
Condition regularly
When it comes to keeping Afro hair looking and feeling good, intensive moisturising is essential. Afro hair tends to become dry very quickly so it needs to be kept as moisturised as possible. Intensive conditioning balms and leave-in conditioners can be good for adding moisture. Whatever type of conditioner you choose to use, moisturise your hair twice a week to stop it becoming too dry between washes and to help you to detangle your hair more easily.
Hot oil treatments work well if they are left on for thirty to forty-five minutes on a monthly basis. You can increase the benefits of a hot oil treatment by heating a towel on the radiator and carefully wrapping this around your head as extra heat helps the conditioner to penetrate the hair shaft.
Detangling your hair
Always use a comb to detangle your hair as Afro hair will stretch if it's combed when wet. Separate your hair into small sections using a wide-toothed comb as this will cause the least amount of damage to your hair. Before you try to detangle your hair, apply a leave-in conditioner to make the detangling process easier and reduce the amount of friction.
Trimming the ends of your hair can go a long way towards making it easier to detangle. If Afro hair isn't getting enough moisture, the ends will be extremely dry and this can make it hard to get even a wide-toothed comb through your hair. Chopping off dry ends is often the easiest solution to this problem as the damage has already been done as far as the dry ends go and repairing this is a big ask.
Drying your hair
Leave your hair to dry naturally whenever possible as this will minimise heat damage. Try not to towel-dry your hair too often as rubbing the hair can damage it. Instead, blot your hair with a towel to remove as much excess moisture as possible and then leave it to dry on its own.
Styling your hair
If you're going to put your hair up, don't use elastic bands as these can easily damage Afro hair. Covered bands are better as they create less friction and are less likely to cause damage.
Other tips
If you want to help your hair to retain moisture while you're asleep, try using satin pillowcases as there will be less friction between your hair and the pillow.
You might also like...