Hair Removal: Epilation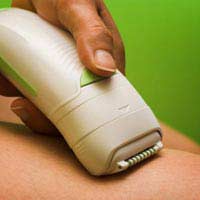 When it comes to hair removal, there are several options. Waxing is often considered preferable to shaving as the hairs take longer to grow back but but the discomfort can be off-putting if you've got a low pain threshold. Epilation isn't all that different to waxing as the hairs are also pulled out at the roots so the results are similar. If you're not sure whether epilation is the right form of hair removal for you, here is our guide on what to expect.
What is Epilation?
With this form of hair removal, a mechanical device known as an epilator pulls hair out at the roots. The head of an epilator device contains lots of small tweezers that rotate and literally plucks hairs when it is moved across the skin. Because there are multiple tweezers involved, this is much quicker than if you were to try individually plucking hairs.
How Often Does It Need to Be Done?
Re-growth occurs every two to three weeks, at which point you'll need to epilate again. Over time, the hairs that grow back are finer and less coarse. Most epilators require regrowth to be a certain length (usually around a quarter of an inch) so that the epilator's tweezers can get hold of the hairs. If the hair is too short, this can be difficult or even impossible.
Does it Hurt?
Because it involves removing hair at the roots, epilation can be a painful form of hair removal. Typically, the pain is quite considerable when you first start epilating and becomes more bearable with repeated use. If the hairs are thick, you can expect to experience more pain.
For hair that is longer than just re-growth, it's often better to shave first and then epilate the re-growth as trying to epilate hairs that are too long can increase the pain. This is usually recommended in the instructions but first-time users may plunge straight into epilating without reading this or understanding that hair length can make a big difference to the pain levels and are then amazed at the sometimes eye-watering pain that they experience as a result. Epilation is still uncomfortable even if you do this, especially when you're not used to it, but taking this step can make it that little bit less painful.
How Much Does It Cost?
The initial outlay of buying an epilator can be more expensive than buying waxing strips or hair removal creams, but it should last for years as long as you're careful with it. A typical epilator costs less than £50 but a more expensive variety (such as those that can be used on wet skin as well as dry) can be considerably more expensive than this. In the long run, buying an epilator can work out much cheaper as it only needs to be bought once or twice rather than several times a year.
Are There Any Other Downsides?
After epilating, the skin will be red and you may find that small bumps also occur where the hair has been removed. Because of this, it's best to epilate at a time when your skin will have time to recover before expose the skin.
You might also like...