Hair Removal Creams & Lotions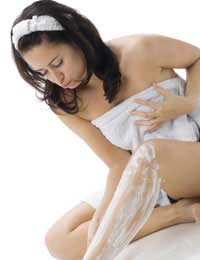 If waxing and shaving isn't for you, hair removal creams and lotions may be the perfect solution. There's no pain (unlike waxing) and you won't cut yourself (unlike shaving), but they are a lot messier!
How do Hair Removal Creams Work?
Whereas shaving only breaks hairs off at the root (and often don't break them off right at the root, hence the dreaded stubble), hair removal creams dissolve the hair at the roots, which is why hairs take longer to grow back. It also gives you a much closer shave, meaning no stubble. The effects don't last as long as waxing though as the hairs aren't pulled out at the root.
What Areas Can I Use Hair Removal Creams on?
As a general rule of thumb, hair removal creams are recommended for legs, underarms and the bikini line. You may need to buy a product that is specifically designed for the bikini line though. If you want to remove unwanted hair from your face and chest area, specialist products are advised (particularly around the upper lip and nipples), but these don't need to be expensive.
Can Anyone Use Hair Removal Creams?
Some brands of hair removal creams have products that are specifically designed for sensitive skin, so you don't necessarily need to stay clear of them. However, it's best to do a patch test before using a new product to make sure that it's not going to upset delicate skin. If you've had no adverse reaction after twenty-four hours, it's usually fine to go ahead and use the product on other areas.
If you've got dry skin, you're probably wary of using hair removal creams in case they strip your skin of even more moisture. As with sensitive skin, some brands have products that are designed specifically for dry skin.
A patch test is highly recommended even if you skin isn't sensitive or overly dry as there is no way of knowing how specific chemicals may affect your skin.
What else do I need to know about hair removal creams?
Although the effects of using hair removal creams last longer than shaving, hair will grow back quicker than if you waxed.
They are also quite messy, as you will usually need to apply the cream, leave it on for a set amount of time and then remove it (often with some form of plastic spatula or rinsed with water), bringing the hair with it. It's important that you leave the cream on for exactly the amount of time that the instructions indicate. Removing it before this time period has passed may mean that not all of the hair is removed as the product won't necessarily have had enough time to work. Leaving the cream on too long can damage your skin.
Hair removal creams also have a tendency to smell quite unpleasant too, although things have improved in that department in recent years.
Hair removal creams are a good alternative to waxing or shaving, but as with other forms of hair removal, they have their pros and cons.
You might also like...