Hair and Scalp Problems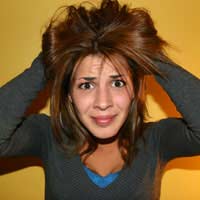 There's no problem when hair's in peak condition; we bask in its crowning glory. But what do you do when recurring complaints affect its condition? Having a bad hair day's one thing, but sore scalps, dire dandruff and worst case scenario - hair loss - quite another. The good news is, the majority of hair glitches can be rectified in the right hands - and understanding what's happening helps to get unhappy hair back on track.
About Scalp Soreness
It's the core of hair growth and tender point for problems to occur, so take note of any changes in scalp feeling or 'flare-ups'. As a general rule:
A red and dry look is likely to be a reaction against either over exposure to strong elements such as sunshine or a harsh chemical product.
A pale scalp with powdery feel may mean a lack of circulation and vital nourishment to the hair follicles. Any persistent scalp irritation needs a trichological check-out and treatment.
About Dandruff
Scalp 'scurf' can be a hair scourge for many of us, all too often a recurrent condition in our stress-filled lives. As stress thrives on vitamin B, if this is depeleted, our skin suffers. Skin shedding should mean the top surface of several layers gets smoothly, almost invisibly, replaced, by the one underneath. Hair washing's usually effective in naturally assisting the process. However, where rapid scalp skin is shed, scales cluster together and dandruff as we embarrassingly know it, soon starts to cloud our hair - and clothes. For 'standard' dandruff, a mild but controlling shampoo, relaxation techniques to offset stress and Vitamin B supplements should be enough.
It helps to define dandruff types to gauge whether to self-treat or seek specialist help;
Oily based Dandruff - Tends to go with the young and dark-skinned - and often twins up with acne.
Scaly Dandruff - Extremely dry skin coated with fine, silvery scales.
Waxy Dandruff - Where patches of soft, yellow wax cover the scalp, it can in extreme cases be a precursor to hair loss.
Pityriasis - Where skin is shed in patches from the scalp with severe itching. Remaining areas grow greasy and hair can fall as a result.
Scalp Psoriasis - If not hereditary, food allergies or stress can trigger this difficult to treat condition. Scales are silvery, firm and hold tight to the scalp.
About Hair Loss
The most emotionally distressing of hair problems takes different forms and has different triggers. The common denominator amounts to a lack of proteins and vitamins in the diet, therefore an inadequate blood-stream feeding the hair. Crash dieters beware!
If the continuous and balanced process of hair shedding and replacement is interrupted from its average 80% growing to 20% resting ratio, hair thinning and/or loss can occur. Certain oral contraceptives and other drugs and medication as well as glandular/thryroid disorders to anorexia and non-meat eating diets with inadequate iron intake, can be other hair loss causes.
Acute Hairfall - A shock to the body's system - illness, operations, accidents, severe diets, stress or childbirth - can bring on what appears to be a worrying hair fall. It is in fact, hair prematurely resting, staying for the standard time then noticeably shedding. Happily, usually a temporary phase before full regrowth.
Alopecia or Spot Baldness - Small, often coin-sized patches of hair loss appear on the scalp where hair growth halts. Nervous tension has been cited as a reason in that the hair's deprived of good blood due to vessels contracting. As hair, skin, and nails are in effect bodily 'sidelines', they are the first to suffer if energy and nutrients are below par. Similarly, there usually always exists a corresponding disorder elsewhere in the body. Alopecia's pattern is that the spots multiply or each increase as the nerves controlling scalp circulation in effect malfunctions. Hair regrowth is usually regained within 1-2 years.
Male Pattern Baldness - Women can be affected by this form of hair loss, though more often in post-menopause. More like thinning and receding than full baldness, it is down to hormone levels changing. It can also be a younger 'career woman' with high job stress complaint.
Hair remedies are on the market to help hair regrow, the most effective containing hair follicle stimulating glucosamine and vital mineral, silica. Be wary of drug based supplements containing such as minoxidil - originally a blood pressure reducing drug that can have side effects. An educated diet rich in the full range of vitamins and minerals is a must in the path to hair repair.
You might also like...