Hair Colour: Chemical or Organic?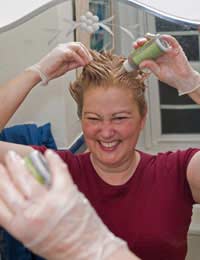 Can blondes have more fun? Changing our hair colour can make us feel like a new person. We were born with our own melanin colour pigment in the hair-shaft but we don't have to live with our natural colour. But before splashing out on a transformation, remember permanently changing colour irreversibly changes hair's core structure, at worst leaving it weakened and porous over time. It's advisable to compare methods in order to decide on the most effective - and safest - process for your hair. If you're going the conventional chemical route, though hair colours can be applied at home, it's still preferable in terms of professional application, careful timing and control and aftercare, to be salon based. In any event, watch for scalp sensitised warning signs during every colouring session such as intense tingling or burning. If this happens, remove colour immediately.
Chemical Colour: Temporary, Semi-Permanent, Permanent
Temporary: Pros and Cons
The first and mildest step in colouring. A colour wash means if you don't like it, it's easily rinsed out a few shampoos later. They shade the tone of the hair up or down without altering the hair's basic colour or structure. They can brighten white, grey or mousey hair but do not provide optimum coverage.
The Process
Colour is only coated onto the hair-shaft with no harmful bleaching agents or penetrative chemicals. Conditioning in the first place, continuous coating of temporary colour can appear to dull the cuticle over time but will not damage.
Semi-Permanent: Pros and Cons
Coverage is several steps more enriching than its temporary counterparts and likewise semi-permanents do not contain bleach - though they contain other chemicals such as resorcinol, phenyledamines and ammonia that can cause irritation. A 24 hour skin patch test before proceeding is therefore essential.
The Process
The penetrative ingredients add depth of colour without altering the basic hair colour. Lasts for a period of four to six weeks before gradual fade-out with normal hair washing.
Permanent: Pros and Cons
All permanent colour, dyes or tints contain penetrating and bleaching agents. They get through the cuticle in effect exchanging natural pigment in the middle layer for the new. The bleach colour strips to enable absorption of the dye. There is no escaping the fact that permanents have a toxic base. It is said that worst offenders are the very dark to black tints as they contain most chemicals - including bleach. Bleaching on its own turns most hair blonde. Over bleaching in any form dries out hair leading to splits and damage. To help offset any negative effects, have colouring done earlier in the day and drink lots of water to flush out impurities.
The Process
Fine hair drinks up colour, coarse hair can resist. A patch test is most essential. It is vital that colour is applied correctly with respect to hair's texture and bearing in mind the underlying scalp skin condition - always subject to change - is up to the process at any given time.
Organic Colour
If you're concerned about any possible effects of permanent hair colouring but want to change hair shade or deal with the dreaded greys, the natural colour route may be for you. Reports in the media have in the past linked permanent hair dye chemicals to such as bladder cancer. This is unproven, says Cancer Research UK but it poses questions all the same. In 2006 a European Commission ban on permanent hair dye ingredients linked to an increased risk of bladder cancer will come into place. It aims to improve the safety of all hair dyes across the market. Organic colour, however, still remains the kindest overall alternative.
A commercial pioneer of this in the UK is hairdresser Daniel Field, creator of the world's first completely safe, natural, non-peroxide, non-ammonia range of permanent hair colours with 100% coverage. Aveda is another natural hair care and colour brand. Note that a patch test even with natural products is still a requisite as allergies to natural ingredients aren't unheard of.
DIY Natural Vegetable Dyes: The Pros and Cons
An additional non-toxic, natural colouring option for at-home use, it can be more erratic in results. Colour coating the cuticle only, vegetable dyes add sheen and condition and as plant based are in harmony with the hair's pH. Drawbacks are that multiple applications are needed to achieve full colour depth and coverage - and exact result shades are hard to predict. A second pair of hands are probably best for more precise application and seek specialist advice first attempting.
The Process
Red/dark shades: Henna is an ancient form of colouring that harks back to Cleopatra. Opt for natural henna as in the dried plant derived. Compound henna with metallic additives will react differently altogether and henna in any case is quite individual in its results. Avoid using on hair that's chemically treated, the tone won't gel well. Or consider Sage- home-made infusions can be used to build-up a brown tone on moderately grey hair only. Or Walnut - the liquid from boiled walnuts can be used as a brown rinse.
Light/blonde shades: Camomile as a traditional infusion lightens fair hair from pale and subtle to golden depending on the intensity and amount of applications.
Saffron - the root can give a golden tint to fair hair over many applications.
Marigold - an infusion will give a soft yellow tone on white/bleached hair.
In hair colour conclusion, remember skin can be volatile so never ignore any signs of irritation or tenderness in favour of hair colouring. Wait until it's 100% fine. When considering hair colour outside of your natural range, don't forget eye brows and lashes - they may need tinting to match!
You might also like...