The Right Hair Style For You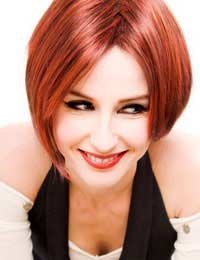 From long-haired fairytale maidens to silver screen sirens like Marilyn Monroe and Brigitte Bardot, hair has always been a potent symbol, a weapon of femininity and sign of fertility. Whether blonde, brunette or red in colour, cascading down in full abandon, it's certainly the stuff of fantasy. But choosing the style that's right for the life you lead in reality should be based on more practical factors…
Your Hairstyle and Your Hair's Character
Every girl's hair carries its own 'personality' from colouring to texture and pattern of behaviour. For best results, try to literally go with the flow and natural feel of your hair. All traits from coarseness to curlyness, thickness and colour are genetic in nature. Learn to work with your hair texture to boost its appearance. Dry frizziness can be tamed, fine hair can be volumised, dull, 'mousey' shades can come alive with colour. Where personal colouring's concerned, any variation's possible but if you're craving a radical change - from blonde to black or vice versa - it may be a step too much. Our natural skin tone usually suits a hair colour spectrum either side of our natural colouring rather than its polar opposite - and imposing such an extreme on it may cause hair havoc - so check with a hairdresser first.
Your Hairstyle and Your Lifestyle
The way you live your life should dictate how you wear your hair. It usually reflects our changing roles and responsibilities. High fashion styles may look fabulous in the salon but be too time-consuming to upkeep at home. This may be fine for a chic businesswoman with more expendable income but for the cash-conscious busy mum, a classic cut she can self-maintain makes more sense. A wash and go shorter style or longer, more versatile hair that can be smartly tied back make quick-fix solutions. At the workplace, consider safety and hygiene issues. Long, free, voluminous hair may not be right for a formal environment or pose a hazard where machinery's involved. However, if everyday life is less structured, hair can afford to be more individual and creative.
Your Hairstyle and Your Style
It's important that hair looks, similarly to clothes style, evolves over time. Otherwise we age ourselves by looking stuck in the past. If you feel that your wardrobe and your hair's hopelessly out of date, it's time to sort both - enlist the help of a friend whose style you admire or indulge in a professional makeover. Your hair is the topping to your dress style and should complement, not conflict with it. For example, a classic wardrobe needs timeless, good haircuts whereas a bohemian/vintage closet can go with more retro influence or longer, looser styles.Hair colour should also blend with usual clothes and cosmetics colours.
When assessing hair, take your face shape and figure frame into overall consideration. You should wear your hair rather than let your hair overwhelm you. Longer, oval and angular faces - avoid pulling down with heavy, one length styles. Layers and shaped cuts with side interest are good. Round and short faces - avoid fussy, curly coiffs that optically widen. Play it simple and straighter. Figure-wise, the length, shape and volume of hair should appear in proportion.
Your Hairstyle and Your Age
Like the clothes you wear, hair is an important expression of who you are - at any given time. In our teens and twenties, we can let it loose, have it grungey or constantly change it to keep 'on trend'. Youth lets us get away with being a hairstyle chameleon. By 30 or 35, however, every woman needs to ask herself is her hair ageing or flattering? Waist-length tresses may belong with yesteryear's mini-skirts, but if you love long hair, consider a more shoulder-swinging compromise. Hair worn up makes an additional graceful, ageless option. If you need a hair makeover, as a starting point, cut tearsheets from magazines of favourite styles, visit several salons and ask for a free consultation,, compare advice from each before taking the plunge.
For hair that's thinning or to soften older facial features, go for layers and fuller, feathered fringes to frame the face. Avoid severe, asymmetric or outrageous cuts the older you get. Also lighten darker hair colours to adapt to changing skin tone.Make like the stars with wigs and discreet hairpieces. They can be a fun, any-age way to ring the changes and hide a multitude of sins!
You might also like...