Hair Styles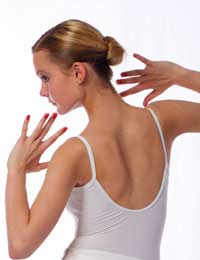 Much-loved, much copied cuts and hairstyles come and go, usually to be seen on popular stars and personalities. Some definitive cuts of the decade span for example: Disco '70s - Farrah Fawcett-Majors' tousled, long tonged flicks; the '80s - Princess Diana's sleek blonde Sloane version of the bob; the '90s - a the universally adopted 'Rachel', as originated by actress Jennifer Anniston's perfectly layered haired character in hit TV series, Friends. As for the noughties thus far, looks are to the catwalk and street for inspiration - and all interpretations of long extensions and flat-ironed Kate Moss model hair. Whether influenced by latest star styles or not, it's useful to master a couple of timeless styles for hair flair both up and down, day through evening. The perfect blow-dry is every woman's hair down basic and the French pleat or chignon, a chic hair up alternative.
The Perfect Blow-dry
You Will Need:
Nozzled hairdryer; styling products to suit hair type; wide-toothed comb; sectioning grips; round brush.
Towel-dry hair, comb through from ends up and apply styling product evenly. With head over, rough dry first - this upside down drying blast helps give roots lift and 'vacuums' away excess moisture. From normal hair position, divide hair roughly into 2 inch/10cm sections, twist and grip each section away. Start by concentrating on the underneath of the hair as this takes longer to dry. Sorting it first helps give a smooth foundation. Wrapping hair round brush as if in a large roller, direct hairdryer down the length evenly, 'freeze' drying with a cool blast to set on the last attempt. Clip this away and repeat the process left to right on all underneath sections. Continue in the same sectional way across the centre back then top centre, through to left and right. Pay special attention to the front and sides as the most frequently seen and face-framing view. Lightly skim over the scalp if any damp still remains.
Tip: Finding it difficult to perfect or have ultra-unruly hair? Some salons offer blow-drying lessons to get you started.
Style Variation: Party Pincurls
A gentle and effective 'soft set' alternative to rollered wave and curl styles.
Prepare with mousse or setting lotion and divide hair into 1 or 2"/5-10 cm sections depending on hair thickness and desired curl size. Beginning from front right or left travelling round the head, wrap each section round two fingers in a flattened sausage shape, wind up to the scalp and flatten out. Pin with two kirbigrips in a cross shape to secure. As a general idea, you will have as many pincurls in formation as you would have rollers. To finish, tie a light scarf round and keep in for a few hours or overnight for a longer-lasting effect.
Tip: Can't quite picture how to do pin-curls? Ask an older relative - it was a very popular home hair-styling method in wartime!
The Chic Chignon
You Will Need:
Controlling wax for thick hair; volumising lotion for fine/silky hair; hairpins or grips; hairspray.
Aka the French pleat or roll, this sophisticated style is especially elegant for evening or to hold hair discreetly away when in need of washing! There's more than one way to do this style, depending on hair's length and texture. Practise each to see which feels comfortable, when hair's dirty and less likely to slip. Rather like tucking in sheets when making a bed, it's in effect wrapping the hair neatly from one side to the other and securing vertically in an even roll or graduated cone shape. Use hair extensions for added body and length. Apply product and brush hair until smooth.
Simple Roll/Short hair version: Hold hair at nape as if tying back. Twist all of hair length anti-clockwise, position at the centre of the head, push hair from the left over and up the length, tucking top ends in and pin down the whole roll. Long 'banana' clips are good to add on top to hold any stray hair in place.
Mid/Long hair version: Brush hair across to left. About halfway or over, mark a line of grips down form crown to nape to hold hair. Twist hair anti-clockwise into a roll or cone shape. Place the whole vertically against the head, pinning from the top by tucking in and under the top section. Continue winding in and pinning all the way down. Hair spray to hold.
Tip: For high hair inspiration, check out pics of iconic chignon chicks of the '60s from Catherine Deneuve to Hitchcock heroines.
Style Variation: Ballerina/nape bun
As simple or as ornate as you like - sleek and round or into a coiled rose shape.On product prepared hair, either tie back with a band then simply wrap hair round hand as a guide, twist and pin.Or divide hair into three sections. Back section, half pull through a band into a semi looped pony-tail and pin under. Work the top left section over the top of head and around the bun, hiding the band and pinning in place. Third section, wrap around on top or twist for added texture and pin.
Tip: For longer hair - A top-knot is a further high-glamour occasion-wear option. Add accessories from decorative flowers to diamante clips and mini tiaras. Very Audrey Hepburn in Breakfast at Tiffany's!
You might also like...