Haircare Kit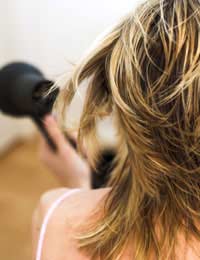 Hairstyling at home's come a long way. It's now like an art form with an overload of interesting-sounding but confusing, products in the shops. Designed to primp, preen, gloss, wax, spray, volumise, de-frizz and goodness knows what else, is it any wonder we end up with bathroom cabinets groaning with the great unused? The more effective, less expensive way to compile your definitive hair kit is to have a shopping list honed in on your hair's actual style needs. You'll be doing your purse and your hair a big favour - giving it far less overload with better, less time-consuming results. Heads you win!
The Products
Most hair types benefit from the application of selective, compatible, styling aids. So, shampoo and conditioner part complete, choose one or two of the following:
Protective Spray or Cream - Shields against heat damage from hairdryers and appliances. Swap this to a UV protectant if out in the sun.
Root Volumiser - Fine hair benefits from this to give 'lift'. Look for those with nozzles to apply sparingly to roots only - unless you want all-over big hair!
De-frizz Spray/Cream - Ones with vitamin or moisturising properties act as effective emollients to dry/unruly hair. Use evenly for smooth results.
Serum - Also heat protective with a fluid texture that tames hair, though too much makes for a limp or greasy feel. Good for long or thick hair.
Gel - Less in fashion of late but a more 'fixable' alternative to serum for holding more structured styles in place.
Mousse - Use when condition, bounce and volume's called for. Moisturises dry hair and gives body.
Wax - Firmer textured to hold and shape curls or create strong definition and style. Good for coarse/Afro hair.
Setting Lotion - An old-fashioned but effective, spritzing type product used to sprinkle over hair before using rollers. Holds glamorous 'set' curls and waves. Some hair types can find it causes irritation over time.
Nourishing/Finishing Creams - Rich and nurturing, apply these creams as the last hairstyling step for silky softness. Best on normal/dry hair in need of hydrating.
Shine Spray - If hair's already in good condition, it's pointless. Instead use another multi-purpose, protective product.
Hairspray - Possibly the most popular hair styling product, ever - with Elnette the biggest catwalk favourite. Opt for brush out, lighter hold varieties to avoid stickyness, build-up and brittle hair. Some natural beauty counters such as Korres and Kiehls have their own non-aerosol 'holding sprays' - kind to hair and the environment!
The Tools of the Trade
As we don't live in an ideal world where hair can be washed, naturally dried and left alone to look fabulous, we need hair-helpful appliances. Hair only looks as good as the tools you use and how you use them. It also makes safety sense with dryers and other electrical/gas stylers to go for those with reliable brand names with good guarantees, should anything go wrong. Used everyday, they need to be effective and not leave hair worse for wear. Even so, treat hair to a holiday from constant heat styling once in a while - it will love you better for it. Hairdressing wholesalers are usually well-equipped on the latest stock and advice front.
The Hairdryer - The most important implement in every girl's hairkit, it needs to be fast, compact and easy to handle. Choose more sophisticated models that are ionic- emits streams of ions to reduce damage and prevent the frizzies - and ceramic - even heat for the best condition. Look for varied heat and speed settings, -AC power as used by salons can give cold burst shots to set hair - and powerful up to 2000 watts Some designs have diffusers for adding volume and soft curls.Hood dryers are still available as in old-fashioned salons, ideal for sitting under at home with a hair-set and a cup of tea!
The Straigteners - Very popular, straighteners certainly tame hair but remember they're effectively 'ironing' and forcing hair sleek - which can be damaging. Avoid over-use and operate with care. Again, choose more well-designed versions. Ceramic-coated are non-stick and heat up evenly. Glass plated are said to slide through for super-sleekness with least damage. Teflon-coated are non-stick, anti-static, helping to prevent styling product build-up. Ionic straighteners produce negative ions that send moisture to the hair, for less damage, static and frizz.
The Tongs - Opt for design technology as with straighteners. Tip - shorter hair go for shorter, slim barrels; longer hair needs a longer model for larger, looser waves.
Heated Rollers - Great and convenient for temporary curls. Opt for ones with ionic technology and protective thermo-ceramic or Teflon coated and automatic temperature control. Heated soft stylers, aka bendy rods or 'sticks' are today's version of putting your hair in rag curls. Standard rollers - avoid the Velcro version; they really can pull your hair out. Use the self-clasped kind or plain pinned variety.
Blow-drying Brushes & Combs - Quality bristle brushes are best or ones with rounded filaments. A paddle brush is good for long, lustrous, straight styles. Radial brushes give movement and allow circulation of air for even drying. Spiral brushes can work well on neat, short or fine hair. A wide-toothed wooden or plastic (not metal) comb should be gently used to untangle wet hair - never brush. A tailcomb is fine and precise for marking partings.
Grips & Pieces - Sectioning grips are useful for dividing hair and holding it away when blow-drying. Hairgrips with ballpoint ends are kinder than spiky pins. Likewise, always use covered bands to stop hair snagging.
You might also like...