Outdoor Activities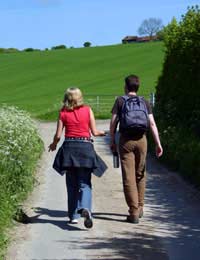 The great outdoors as a source of exercise brings with it the obvious benefits of fresh air and pleasure in the elements. One of the cheapest, most effective and natural ways of calorie burning and keeping trim is walking. A daily consistent 30 minute or more power walk can over the course of a week work as well as a standard aerobic alternative. It's a safe way to get back in shape following illness or ongoing lack of exercise.
Walk Into Well-Being
Introduce walking where possible as a transport alternative to and from work or factor a relaxing Sunday stroll into your weekend. Health experts advise that regular walking in uplifting landscape - think sea to countryside - can help in reducing stress and depression, calming the senses and balancing perspective. Being amongst trees apparently slows down the breathing while seascapes touch and soothe all our senses.
The trick is to be in the moment and embrace it as an escape from the pressures of life. Combine walking with certain other artistic pursuits - walk to somewhere peaceful and set aside time to indulge in a good book, practise sketching or writing that best-seller! The outdoors has a special therapeutic way of setting our imagination and emotions free - try it and see.
Run For Fun
On from walking, jogging firms up the leg and gluteal muscle group but needs more attention in terms of staying ache and complaint free. Don't skimp on footwear or underwear. Running shoes must be specialist quality while sports bras should be of tactile, breathable fabric to prevent breast chafing. Plot and analyse where you actually run - vary the route and to prevent potential shin splints, avoid pavement pounding and too much up and down hill activity. Barefoot running along (clean) beaches is a blissful summertime option!
Horse Power
If you love horses, riding can be the ideal outdoor exercise pursuit, combining animal therapy with discipline and skill, control and co-ordination. The classic upright saddle stance aids posture, while trotting to cantering tightens thighs and tones the bottom.
Once well-established at the basics, riding at speed is exhilarating and pumps the heart. Extend riding pleasure into nature-trekking trips for a healthy activity holiday with core interest. Shop around stables first, checking out animal welfare and equestrian credentials before you commit.
On Your Bike
If two wheels feel more at ease, cycling's also great for working legs and building up aerobic capacity. Convenience is also a plus as it can be integrated into your everyday routine, to work, for example. First consider the potential unpleasant stress factor if you have to negotiate congested roads in built-up areas. Opt for quieter routes where possible as cycling should be a rewarding experience, not angst-making! Use as your solo mode of exercise or get out and about by bike with friends and family.
This Sporting Life
If something altogether more adventurous is more your style, there's a wide world of challenging outdoor activities out there, from water-based to more grounded in exploration or air-borne and into the realms of extreme sports. Water babies may like the thrill of trying kayaking, yachting or rowing, whilst land lovers may relish the rigours of pot-holing, rock-climbing and mountaineering. More risk-taking and invigorating in nature, they're good for the adrenalin junkie but also require high concentration, energy, agility and specialist skill. Contact specific head organisations for relevant training and equipment needs. And whatever becomes your exercise plan, stay alert and make every session a case of the great outdoors…
You might also like...