Dance Into Shape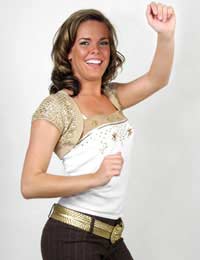 There's a certain romance to dance that makes it special in the exercise stakes. Cutting across all levels of competence, age groups, cultures and backgrounds, it ticks the right boxes across fitness and weight loss to image improvement and social skills.
The dance world is so wide you can choose from social dance class to specialist training, dabble casually with it or go on intensive holiday breaks. Go solo to tone and hone a body beautiful or explore the interactive and learn the joy of partner dancing - with the bonus of meeting new friends or even someone special.
Dance Into Shape
Depending on the discipline, it can be gentle or strenuous, act as an aerobic workout or become 'Strictly Come Dancing' level competitive. With a dance form to suit every mood and personality, it can be used to gain elegance, musicality and grace or bring out your wild side.
General benefits of dance include improvement of posture, poise and cardiovascular stamina; prevention of back problems; increased concentration, co-ordination and confidence and streamlining of physique. Burning up the dance-floor is a naturally addictive way to drop a dress size and give skin a glow. Face the music and dance and get in touch with your own rhythm!
Want to dance but not sure how?
Dabble in drop-in classes and take a pick and mix approach to find your niche. Or first consider what type of music appeals most - classical, period, swing, Latin or contemporary, perhaps. Look at specialist press for listings on what's on where.
Ice-Breaker Dance
Ceroc: An easy-learn fusion of salsa and jive is one of the fastest growing social dance trends nationwide. Ideal for beginners.
Salsa: Sensual, hip-swinging and upbeat, this Latin/Afro-Caribbean dance - literally meaning 'sauce' - is another popular, informal self-expressive, often improvised style.
Social/Partner Dance
Sequence: A gentle break-in to ballroom dance, partnering and picking up basic steps to traditional dance in a social context. Tea-dancing is an extension on the theme.
Ballroom: Enjoying a renaissance and runs the spectrum from Fred and Ginger elegance via foxtrots, waltz and quickstep to earthy latin movers such as the samba, rumba and mambo.
Tango: Drop-dead sexy 'salon' dance with sinuous, close-couple moves and focus on legwork.
Retro or Period Dance
Perhaps the most niche of partner dancing. Perhaps best to like the music of the period before taking the plunge. If you wish to dance (and often dress the part) in really authentic style, seek out relevant dance organisations rather than diluted versions at general dance schools.
Charleston, Balboa and Shag: Circa 1920s fun dances with nifty footwork and angular lines.Lindy Hop: The original title for Jitterbug, a bouncy, swing style derived from American jazz dance to Big Band and other 40s music.
Boogie-Woogie or Rock and Roll: A fast and fun, wide-ranging branch of the popular 1950s American form - style variation depending on venue and teachers.
Class Dance for Solo Practice
Dance Culture: If you're into world dance, consider everything from African to Arabic belly dance, Bollywood Indian and Spanish flamenco.
Ballet: Into the lyrical and graceful? It's never too late to study the beauty of ballet - at the barre for streamlining stretching, progressing into the centre for perfect balance and poise.
Contemporary: Otherwise known as 'modern' dance, a fluid, abstract, often improvised form.
Street: Hip-hop and other funky urban variations for throwing dance shapes.