T'ai Chi, Yoga and Pilates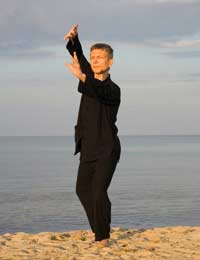 Diet alone is not enough to keep in good shape. Exercise is essential for everyone at any age for optimum health, flexibility, stress-busting and overall feel-good factor. Though we all need a certain amount of cardiovascular activity, muscle-building and stretching, rather than follow a strict fitness regime for the sake of it, far better and sustainable is to choose exercise that you truly enjoy.
Sometimes different disciplines can be said to match different personality types. For example those very driven and goal-oriented may relish high-energy gym workouts to release, where others may relate to more meditative, slow-burn practices; outgoing temperaments may prefer social or team sport scenarios and so on. Have fun shopping around until you find what presses your best fitness buttons! And remember, if you're seriously overweight, have recently suffered an accident or change to health, it's safest to see your GP first for a prescribed exercise plan, as some forms of exercise may carry certain contra-indications.
The safest, most established exercise formats span Eastern mind, body and spirit philosophies such as t'ai chi, wu shu, qi gong and yoga. As a general rule, they can be used effectively and safely by anyone and each has a rich cross-section of health and well-being benefits. Traditional Chinese disciplines often resemble poetry in motion but are easy to learn and practice.
T'ai chi Your Cup of Tea?
A gentle but powerful series of graceful, flowing movements that help to reduce stress and rebalance the body in accordance with the Taoist principles of masculine Yin and feminine Yang. Qi gong is a serene study in the science of vital energy force qi or chi. A version in combined movement and meditation of ancient Chinese medicine that connects with and clears the body's acupuncture points and energy channels or meridian points. Of the many forms, Dayan or 'Wild Goose' qi gong is apparently the most effective. Here, linking movements help flow qi round the body shifting toxins, healing injuries and revitalising energy. More dynamic martial arts such as kenpo and thai boxing are largely based on the same principles with a self-defence element. Related practices are wu shu and wing chun - latter devised by a Buddhist nun!
Yoga the Way to Go?
Stars such as Sting and Madonna have certainly put yoga in the recent spotlight but there's far more to this deep and rewarding discipline than big name devotees and any leg behind the ears stereotype. The word 'yoga' means to unite and as perhaps the ultimate effective health system does so by linking mind, body and soul together in a series of holding or flowing, complementary postures or asanas. Though not as calorie-burning as a standard gym work-out, yoga's core of strengthening poses can naturally enhance weight loss by stabilising metabolic rate as well as toning internal organs for optimum function. There are various forms of yoga, so it's best to try a cross-section to see which suits best. As a beginner, never attempt to self-learn - you need to be in a structured class with a teacher accredited with such as The British Wheel of Yoga.
Yoga Techniques include:
(For Beginners/Improvers/Anyone)
Hatha or Integral Yoga: The postural 'choreography' of basic yoga varies from class to class but should include resting and 'salute to the sun' stretching cycles, standing matwork and breath exercises.Iyengar: Slow-moving, posture correcting and prop based with supportive belts, blocks and cushions.
(Intermediate/Advanced)
Ashtanga: Physically demanding and aerobic 'power yoga'; strenuous and purifying through cycles of supple-making moves.
Bikram - Hot, hard-core yoga held in sweat room temperatures. The usual 90 minute sequence involves constant work through 26 poses.
Jivamukti - A dynamic variation often with a push through the pain philosophy and challenging posture work.
Kundalini - Intensive breathing, stretching movement and chanting, relaxation and meditation with a spiritual slant.
The Power of Pilates
Strengthening and lengthening, stabilising and shape-changing are effects of Pilates. Slow-moving and concentrating on core muscles, this technique of some 500 exercises interlink to condition, control and tone the body in a flowing, no-sweat way. Invented in the '20s by once frail German innovator, Jospeh Pilates while interned in wartime England. Often suitable as remedial exercise even in cases of severe post-accident trauma, such as whiplash injury.
All these practices are perfect for:
Streamlining posture, strengthening, unifying and calming…better breathing and improved bodily functions…easing conditions from backache to lowering blood pressure…helping sleep patterns and circulation, co-ordination and concentration…said to slow down effects of ageing…no strain or fatigue factor.
You might also like...