The Best Exercise for You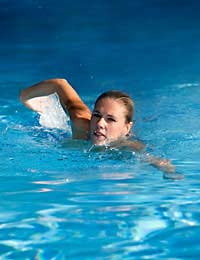 Open the health and fitness pages of most magazines and newspapers and you're immediately confronted with a confusing range of information on the latest exercise plans especially ones involving celebrities. Gwyneth Paltrow and Madonna both practice yoga, and Reese Witherspoon has been seen jogging, but what suits them won't automatically work for you too. How are you supposed to know which exercise is best for you?
Don't Target One Area
We've pretty much all got certain areas of our bodies that we want to lose weight from or just tone up. If this is true for you, you've probably already tried to draw up an exercise plan that targets those specific areas, but this isn't necessarily the best move. You might think that the quickest way to tone up specific areas is to target them directly, but this is a popular misconception. In reality, you need to choose a more general exercise like swimming or jogging that will tone your whole body, so that you lose weight from all over your body. This will also improve your stamina and flexibility.
Find Something You Enjoy
Another big reason why many exercise plans fail so spectacularly is because we don't enjoy the exercise. If spending an hour on a stationary exercise bike or treadmill fills you with horror, why not try swimming, dancing or aerobics? Both will burn calories, and are often far more fun to do. If you want to persist with the treadmill, exercise bike or step machine that's been languishing in your garage ever since you bought it, try bringing it back into the house to use while you're watching television. While your attention is firmly fixed on the screen, you might be surprised how much exercise you do without even realising!
Combine Types of Exercise
For the best results, try a mixture of cardiovascular exercise and weight training. Running, brisk walking, jogging, cycling, swimming, rowing and most team sports are all examples of cardiovascular exercise as they work your heart and lungs over an extended length of time. Weight training isn't as extreme as it sounds, and will tone your arm muscles, rather than leaving you with big muscles. Fitness experts recommend working sets of muscles on alternate days. If you work your leg muscles on a Monday, work your arm or abdominal muscles the next day, and then go back to working your leg muscles on a Wednesday.
Don't Compete
Don't be tempted to do the same exercise as your friend, just because it worked for her. Our bodies are not the same, and one exercise won't automatically work for two different people. It may be that you're a pear shape (you store excess weight on the lower half of your body); while your friend is an apple shape (excess weight is mostly stored on the stomach as a "spare tyre"). This may require you to be focused on your lower body by using weights to up the intensity of your cardiovascular and aerobic work, while your friend may use Pilates to strengthen and tone her abdominal muscles on top of her usual workout.
Finding the right exercise for you can be a process of trial and error to eliminate the exercises that you don't enjoy enough to keep doing regularly. Any activity that leaves you feeling slightly breathless and a little sweaty afterwards is beneficial to your heart and lungs. Incorporating up to an hour of moderate exercise into your daily routine will really boost weight loss efforts. It might sound obvious, but exercise goes hand in hand with a healthy diet.
You might also like...