Rhinoplasty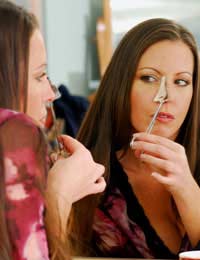 Rhinoplasty is probably better known as nose reshaping. It's becoming a much more common cosmetic procedure after celebrities like Ashlee Simpson have been rumoured to have had it done.
Why Have Rhinoplasty?
Most people want to have the procedure because they aren't happy with how their nose looks. Rhinoplasty can reduce the size of your nose even out bumps or correct damage caused after an accident or injury. You can also choose to have augmentation rhinoplasty, which involves having your nose built up using implants. This is commonly done to build up a flat nose. Rhinoplasty can also be done to correct breathing difficulties if you have problems breathing through your nose. This is known as septoplasty.
What is Involved?
Rhinoplasty involves cuts being made in your nose, usually through your nostrils to minimize the amount of visible scarring. Bone and cartilage in your nose is taken out or moved to a different part of your nose, depending on whether your nose is being reduced in size or corrected.
The procedure usually serves to make your nose narrower. As your nose will then take on a different, your nostrils will probably have to be reshaped to fit in with your new nose.If you're having rhinoplasty to make it easier to breathe through your nose, this involves altering how the plate of the bone separating one half of your nose from the other lies.
How Much Does it Cost?
Rhinoplasty isn't at the cheaper end of price spectrum for cosmetic procedures. Prices usually start at around £3000, and can reach £4200. A lot will depend on the nature of your surgery - it stands to reason that a bigger procedure like reconstruction after an accident is going to cost more than removing a bump from the bridge of your nose.
What Are the Risks?
A lot of the possible risks and complications depend on the exact nature of the surgery that you're having, as well as your general health, but bruising and swelling around the eyes are common post-surgery complaints. You will usually need to wear a splint on your nose for around three weeks after the procedure because of this, and to hold the bones in place. In rare cases, you may experience heavy blood loss in the form of a nosebleed, and this would require hospitalization.
Breathing through your nose may be problematic in the week following your operation, but this gets easier as the swelling fades.
Like all operations, there are possible complications because of the fact that you will be under a general anaesthetic throughout the procedure. For this reason, there is the risk of developing a chest infection if you are a smoker. If you have a cold, cough or sore throat at the time of your surgery, there is also a chance of developing a slight infection.
Rhinoplasty is a useful cosmetic procedure if you're unhappy with the size, shape and overall look of your nose. Stars like Ashlee Simpson have made nose reshaping much more popular in recent years, and it's now an increasingly common form of surgery.
You might also like...