The Future of Natural Beauty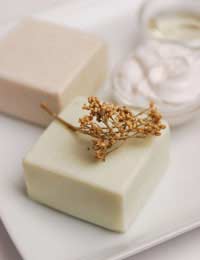 Although there is an increase in the number of brands of beauty products on the market claiming to be organic, there is currently no European Union (EU) legislation relating to the certification of organic ingredients for cosmetics and personal care products. Currently existing EU standards only relate to products that are from an organic production system and that are intended for human consumption.
The UK's Soil Association
In the absence of any European legislation, on 1 May 2002, the Soil Association launched its own, voluntary, standards, to satisfy the growing interest from companies in organic beauty products. The standards were developed over three years by representatives from health and beauty companies, consumer organisations, herbalists, farmers, growers, and the Soil Association. The organisation explains that the standards will continue to evolve as increased research and expertise in the field becomes available.
The requirements are that products should be minimally processed and GM ingredients are not permitted. Ingredients and processes that are toxic or have detrimental effects on the environment - such as being non-biodegradable - are to be avoided. The process of certification does not involve chemical or material tests on products or ingredients, unless there are concerns. It is usually more like an audit. After the certification is received, an inspection date is set. An inspection is carried out and a report is prepared, after which a compliance form is sent out.
Products containing at least 95 per cent organic ingredients can be labelled organic; products with no less than 70 per cent organic ingredients may be labelled "made with xx per cent organic ingredients".
Prohibited Ingredients
Hydrogenated fat - this process of hardening fat is not allowed under organic food standards and is unnecessary in organic beauty products. Alternatives such as palm oil, which are naturally solid, are permitted.
Ingredients of petro-chemical origin.
The surfactants sodium lauryl sulphate and sodium laureth sulphate - due to consumer concerns over their safety and the possibility of the manufacturing process producing toxins.
Any animal products used must be from animals that have been bred under organic standards. Testing of ingredients and products on animals is prohibited, unless required by law.
Problems for Organic Product Manufacturers
According to the Soil Association the biggest problem faced by manufactures of organic toiletries is the limited supplies of organic raw materials and ingredients. All too often common ingredients are not produced organically, or if they are, not in large enough quantities. On other occasions, manufacturers are able to locate organic raw ingredients but then find that it is made into an ingredient product by petrochemical or synthetic processes.
Some progress, however slow, is being made. Since May 2002, more than 50 manufacturers have received Soil Association certification. In total there are now several hundred products on the market (including essential oils and other ingredients) that are certified by the Soil Association as organic.
The Future of Natural Beauty
The latest research shows that natural personal care products are booming in the UK, with sales doubling between 2002 and 2005. According to reports form the Organic Monitor, the personal care market is currently growing at 20 per cent, far out-stripping growth in almost all other sectors of the market. Despite significant growth the market remains relatively small, with the natural market accounting for only 3 percent of the total personal care market.
The main challenge to manufacturers remains the lack of national standards as well as the lack of consumer awareness as to what defines 'natural' and 'organic'. But as awareness grows and the demand for more natural and organic products increases perhaps the UK will move forward towards more defined standards for natural beauty products.
You might also like...