Pregnancy and Post Pregnancy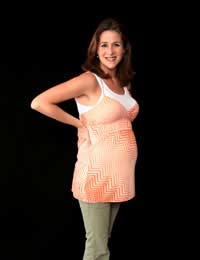 Pregnancy can be a time of tumultuous emotions. And as your breasts get larger and your waistline disappears you may find yourself just wishing for your old body back. But there is no reason why you shouldn't always be looking and feeling great throughout your pregnancy and after, even though you may not be feeling your best. All you need is a few tricks up your sleeve to keep you looking fresh and vibrant all day long.
Taking Care of Your Finger Nails
Sometime around the fourth month, your nails may start to grow faster than usual, this is due to pregnancy hormones. Fingernails may become more brittle during pregnancy, and you may notice ridges forming across the nail. They should return to normal within a few months postpartum. In the mean time if you need to strengthen you can use a strengthening cream or an acrylic nail hardener.
Hair Changes During Pregnancy
When you're not pregnant, the hairs on your head grow in a regular cycle. Each hair:
Usually grows about one-half inch per month for anywhere from two to six years
Then goes into a "resting" phase for 2 or 3 months
Then gradually falls out, usually when you're brushing or washing your hair
The growth cycle then starts again. At any one time, about 10 percent of the hair on your scalp is in a resting phase, and about 90 percent is growing.
During pregnancy, hairs tend to stay in the resting phase longer. And much more of your hair is in the resting phase at any one time. Therefore, fewer hairs fall out each day. This causes your hair to seem thicker and fuller.After delivery, this resting phase shortens. More hairs fall out, and you start to grow new hair. But the normal hair loss that was delayed by pregnancy tends to take place all at one time. This may cause your hair to seem thinner than usual.
Colouring Your Hair During Pregnancy
You can give yourself a boost during pregnancy if your hair is looking a little listless by adding some colour. Many hair dyes contain harsh chemicals such as peroxide, ammonia and also solvents which can irritate skin as well as being carcinogenic. No wonder then, that many mums to be are uncertain whether it is safe for them to colour their hair during pregnancy. But if you are an expectant mother you can dye your hair without putting your or you unborn child at risk, because there are non-toxic alternatives out there.
For red and hair you can use henna. Don't use henna on eyebrows or eyelashes, or if you have already have chemically dyed or treated hair. Some people have an allergic reaction to henna. Before using henna on your hair, do a skin test on a small area of your wrist. Cranberries and paprika can also help redden hair.
For brown hair you can use coffee, marigold flowers, ginger or nutmeg.
For lightening blonde hair, you can use lemon juice. Chamomile or dandelion flowers can also be used.
You might also like...