Adolescence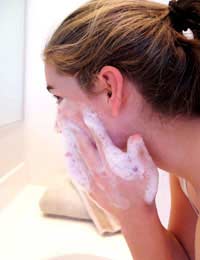 Adolescence is a time when your body is going through some very significant changes. It is also a time when many women are very conscious of the way they look and feel and are also beginning to experiment with cosmetics and different 'looks'. You want to be able to get the most out of your make-up and your natural beauty but you also want to ensure that the products that you are using are not going to compromise your health or your still developing body. In order to achieve this there are some things you need to be aware of about the cosmetic industry and some of the chemicals that are used in some personal care products, which make them less than pretty.
Did you know that the average women's morning make-up routine puts them into contact with more than 100 chemicals before breakfast? And many of them are harmful. But there are a wide range of organic personal care products out there that contain all natural, non toxic ingredients, if you know how to look for them.
Adolescent Skin Care
Your face is very important and you want to keep it looking its best, but for some adolescents that's not so easy because of acne. During adolescence hormones called androgens become active and can cause the sebaceous glands to produce more sebum. This makes the skin become more oily which in turn can clog pores and create pimples and blackheads. There are a number of over the counter and prescription medications for acne although some of them contain substances which may actually worsen an acne outbreak. There are also a number of effective natural alternatives. The natural alternatives are comprised of organic herbal and botanical extracts and therapeutic grade ingredients. These herbal extracts use the natural healing benefits of neem oil, lavender oil, tea tree oil or thyme oil to combat oily skin and acne with impressive results.
Disguising the Effects of Acne
Disguising with Cosmetics
Mineral make-up offers the best possibilities for acne sufferers. Mineral makeup is made of natural minerals derived from the earth, these minerals are not only inorganic but they are also extremely resistant to water. The minerals protect your face by blocking bacteria.
Mineral makeup is not soluble in water so even if you put water directly on your face the minerals will not be absorbed and the water cannot pass through. And you don't have to worry about mineral make up blocking your pores, it won't. When it is made it is milled to a very fine consistency, so it is comprised of tiny granules that are much smaller than your pores. This prevents acne from developing and means that the makeup easy to blend into the skin to conceal problem areas.
Dealing with Scar Tissue
Some creams, such as Terproline, provides the skin with the stimulation to speed up the removal of damaged tissue and replacement by new, which can help to eventually fade and replace minor scar damage.
Rosacea
Rosacea is a disorder that affects the skin on your face. Symptoms include redness of the facial skin and inflammation around the nose, chin, cheeks, and forehead; puffy face, and burning skin, and inflamed sores. There is a range of face products made especially for acne and rosacea-prone skin.
You might also like...