Miracle Creams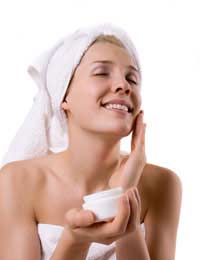 Would you pass up the chance to rejuvenate your aging body to that of a healthy 25 year old? Probably not. And what if you were told that there was a scientifically proven way to do this? You might think it was science fiction but there are a number of manufacturers out there that tell us there products can do just that. Here is a list of the most common ingredients, their claims and their actual benefits.
Vitamin A (retinol)
Retinol is an antioxidant derived from vitamin A. Many skin creams claim that retinol works beneath the skin's surface to smooth out line and wrinkles. Retinol concentration differs in different products, some contain none at all. You should not use Vitamin A derivatives if you're pregnant.
Hydroxy Acids
There are several hydroxy acids which are synthetic acids derived from fruit sugars, these include: beta hydroxy acids, alpha hydroxy acids, and poly hydroxy acids. Each of these acids is an exfoliant that work to remove the dead layer of skin cells leaving smooth, fresh looking skin. Manufacturers claim that these products can improve the look of wrinkles and rehydrate the skin. Use of these acids can sometimes result in some minor improvements in wrinkles and fine lines. Side effects include irritated skin, itching, burning sensations, and possibly even scarring. Hydroxy acids will increase your sensitivity to sun light so you should apply sun protection while you are using them.
Coenzyme Q-10
Coenzyme Q-10 is said to improve the skin's ability to fight wrinkles. Several human studies have shown that coenzyme Q-10 may result in significant reduction in fine wrinkles around the eyes and does not produce any side effects. Further studies have shown that applying the nutrient before exposure to the sun may protect against sun burn. More research is needed.
Vitamin E
Vitamin E is the number one antioxidant found in the skin. When levels of vitamin E in the skin start to decline, this produces fine lines and wrinkles.
levels in skin are associated with wrinkles. Manufacturers say it reduces the effect of free radicals for a soft, smooth, radiant complexion. There have been few human studies but what there is has shown some success in the reduction of wrinkles and lines. Side effects may include swollen face, itchy skin and redness.
Collagen
Collagen is a protein that helps to keeps your skin elastic and supple. It diminishes with age, which causes wrinkling and sagging. It is said to firm the skin while minimizing the appearance of fine lines. There are a number of skin creams on the market that contain collagen. These products claim that collagen can nourish the skin and reverses the signs of aging. However, collagen cannot be absorbed through the skin and it cannot help the body produce more collagen. When you apply a collagen cream you may get a sensation of firming or tightness, but it's most likely caused by skin hydration which can be reached using any moisturizer.
You might also like...