Choosing The Right Clothes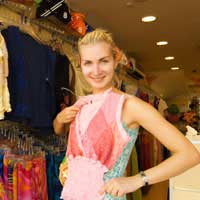 Most of us go to great lengths to make sure that our make-up perfectly suits our hair colour eye colour and skin tone, but how many of us know which clothes colours really complement us as well? Wearing the wrong colours can make your skin look washed-out and dull. Who knew that planning your wardrobe was so complicated!
What is Your Season?
Your skin tone and hair colour also have a big impact on the colours that really suit you. Hair colour is a particular minefield as the many hair dyes on the market mean there is such a wide range of shades to have to take into account. To determine your skin tone, you need to work out which undertone your skin has. You can examine the inside of your arm in bright daylight to do this. Your skin should fall into one of four seasons (categories).
Winter
A winter tone (cool) has blue or rosy-pink undertones. If you fall into this season, your skin will probably be porcelain or pale, but you can also have a yellow-based olive complexion or dark skin. There is usually a lot of difference between your eye and hair colour and skin tone.
Winter tones are generally brunettes with a dark eye colour, but natural white-blondes can also fall into this season.
Colours that suit winter tones include white, black, navy blue, red, hot pink, crisp white and most pastel shades. Earth tones, mid-browns, beige, orange and gold are best avoided.
Summer
A summer tone (cool) has blue or pink undertones, and the general skin colour is pale or pink. Women with summer tones are usually naturally blonde or brunette with a pale eye colour.
Colours that suit summer tones include neutral and pastel shades, powder blue, dusty pink, mauve, lavender, plum and pale yellow. Black, orange and earth tones are best avoided.
Autumn
An autumn tone (warm) has golden undertones like pale peach and golden brown. Women with autumn tones tend to have red or brunette hair with dark eyes, but they can also have golden blonde and black hair.
Colours that suit autumn tones include earth tones, and spicy, golden tones. Camel, beige, orange, olive, dark brown and grey are also good colours. Black, white, most shades of blue and pastels are best avoided.
Spring
A spring tone (warm) has a subtle golden undertone, and the general skin colour is creamy white or peach with an ivory complexion. Women with this season tend to have golden blonde, auburn or strawberry blonde hair with light blue or green eyes. Rosy cheeks and freckles are common.
Colours that suit spring tones include peach, camel, golden yellow, aqua, bright green, true reds, coral and clear blue shades. Black and white are best avoided, as are muted colours.
Image Consultancy
Hiring an image consultant is the most concrete way of determining which season you are. You're asked not to wear make-up for your session, which generally lasts around two to three hours. The first session focuses mainly on colour theory, although some image consultants will also advise you on the right shade of foundation for your skin tone. The second session will usually focus on clothes and style. This session tends to last longer than the initial session, and often involves bringing several of your favourite outfits along with you for the consultant to analyse. The consultant will help you to work out your face and body shape, and the style of clothes that work for you, plus accessories and jewellery tips.
Unfortunately, image consultation sessions don't come cheap. There are an ever-increasing number of image consultants to choose from now, with differing price ranges. The length of your session and where in the country your image consultant is located will make a lot of difference to the price. You can expect to pay anything between £80 for a 150-minute session outside of London to £150 for a session of the same length in and around London. It can be expensive but most women look on it as an investment - think of the money you'll no longer waste on styles and colours that do nothing for you!
You might also like...