Men's Cosmetic Problems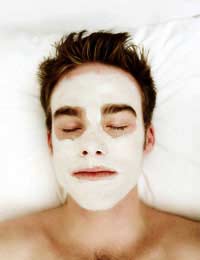 Acne
No one likes having spots but for some people they are inevitable. However, this doesn't mean that you have to suffer them. The main treatment for acne is antibiotic therapy. This can be given topically (i.e. lotion or cream onto the skin) or orally. Both versions are effective. Though if your acne covers a wide area (e.g. your back) it can be difficult to apply the topical treatments, so an oral treatment may be more convenient. Don't' expect immediate results, and don't give up the treatment too soon. As a general rule, whichever treatment you use, it's going to take at least two months to start working. So get used to a routine. Use the treatment regularly, at the same time each day. Once the medication is actually working, expect to stick with it for anywhere from up to 9 months to a year.
Don't pick your spots; this spreads the inflammation deeper into your skin. Avoid greasy hair oils or styling gels.
Eat a good healthy diet with plenty of fresh fruit and vegetables. Chips and chocolate don't cause acne although some people think that they aggravate their skin.
Stress probably can aggravate acne as it causes hormonal changes, so if you can, reduce the levels of stress in your life. Exercise reduces stress and benefits you in other ways. It will boost your self esteem which can be knocked by acne, so get down to the gym, or take up walking or cycling.
Preventing Razor Burn/Ingrown Hairs
You will be glad to know that there are products out there that make shaving a lot more comfortable than it might be, and that can also save you from the embarrassment of red, bumpy razor rash and ingrown hairs. Start with a clean and exfoliated surface. Cleansers containing peppermint are a good way to go because they cool and sooth your skin. Pre-Shave Oil softens the beard and is ideal for men who have tough beards, sensitive skin, or shave bumps. It contains essential oils formulated for your specific skin type.
Dry Skin
The number one rule in avoiding dry skin is never to use regular soap on your face. Facial scrubs or cleansers help remove dead skin cells, deep clean your skin, and raise your stubble. Choose one with salicylic acid to improve razor bumps and prevent infection. If you're opting for a scrub, avoid the ones containing ground up fruit stones as these have a tendency to tear your skin. Don't be afraid to moisturise. It's not unmanly, it's common sense and it will keep your skin young looking and wrinkle free.
Oily Skin
A man's skin is approximately 20% thicker than a woman's, and is typically firmer because it's richer in collagen and elastin. However, because of more active sebaceous glands, men's skin tends to be oilier with larger pores, a richer blood supply, and an increased a tendency to sweat. Essential oils like lavender, sage, mint and tea tree are naturally antiseptic, active and help heal the skin. Oils mimic our own sebum and will send signals to the skin to balance the over production. Use products that are non-comedogenic - products whose ingredients will not clog your pores.
Foot Odour
Your feet smell for two very simple reasons. You wear shoes and socks and your feet sweat. The odour is caused by the interaction of bacteria that thrive in your shoes and socks. So if you are looking to resolve a problem with smelly feet, your solution has to address both your feet and your footwear. Inside your shoes temperatures can reach up to 102 degrees so it's not surprising that you may have some foot issues. Smelly feet can also be caused by an inherited condition called hyperhidrosis, or excessive sweating, which primarily affects males. Stress, some medications, fluid intake and hormonal changes also can increase the amount of perspiration your body produces.
Preventing Foot Odour
Fortunately there are some simple measures you can take to prevent foot odour:
Bathe your feet daily in lukewarm water, using a mild soap. Dry thoroughly.
Change your socks and shoes at least once a day.
Dust your feet frequently with a non-medicated baby powder or foot powder. Applying antibacterial ointment also may help.
Check for fungal infections between your toes and on the bottoms of your feet. If you spot redness or dry, patchy skin, get treatment right away.
Wear thick, soft socks to help draw moisture away from the feet. Cotton and other absorbent materials are best.
Avoid wearing nylon socks or plastic shoes. Instead, wear shoes made of leather, canvas, mesh or other materials that let your feet breathe.
Don't wear the same pair of shoes two days in a row. If you frequently wear athletic shoes, alternate pairs so that the shoes can dry out. Give your shoes at least 24 hours to air out between each wearing; if the odour doesn't go away, discard the shoes.
Always wear socks with closed shoes.
You might also like...