Men's Diet and Exercise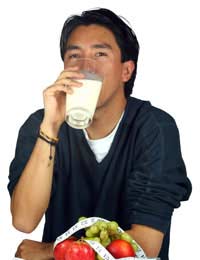 Maintaining a healthy diet is important whatever your age. The short-term benefits of a healthy diet are that it:
helps you stay in good shape
maintains healthy skin, hair, eyes and nails
gives you the energy for day-to-day living, and for exercise
helps concentration, memory and mood
supports your immune system, to help keep infections at bay and allow you to recover more quickly from illness
promotes a healthy and regular bowel
The long-term benefits of a healthy diet are that it:
reduces your risk of health problems such as obesity, diabetes, heart disease, various cancers, high blood pressure, stroke, cataracts and osteoporosis
helps you stay fitter and healthier as you age
Healthy Eating Guide:
Bread, Potatoes & Other Cereals
The main nutrients here consist of carbohydrates (mainly starchy), fibre, B vitamins, potassium, iron, selenium, some protein, calcium, vitamin E and phytochemicals. Healthy choices include bread, pasta, rice, noodles, breakfast cereals, potatoes, oats and grains. You should aim for three daily servings of wholegrain types. Also limit added fat. Stick to 6-11 servings daily (according to appetite). A serving is: 1 slice of bread; a bowl of cereal; half a bagel, 3 crackers, half a cup of cooked rice or pasta, 1 potato. Many people would actually benefit from eating more. These foods are nutritious, filling, and not fattening if eaten in moderation. Make them a part of each meal and use as healthy snacks.
Fruit & Vegetables
Fruit and vegetables contain vitamin C, beta-carotene, magnesium, folic acid, potassium, fibre, some carbohydrate, calcium, iron and phytochemicals. Fresh, frozen, canned, dried and juices can count as healthy choices. Choose a variety of different types and colours each day. Aim for at least 5 portions every day. One portion equals 2 tbsp vegetables, a piece of medium sized fruit, a side salad, 2-3 tbsp cooked fruit, 1 tbsp dried fruit, a glass of fruit or vegetable juice. Diets which are high in fruit and vegetables can help protect against chronic disease, aid weight control, maintain a strong immune system and keep your bowels regular.
Milk & Dairy Foods & Alternatives
These foods contain calcium, vitamin B2, B12, protein, vitamins A & D and zinc,. Phytochemicals are also included in soy-based foods. Opt for lower fat varieties, e.g. reduced-fat milks (semi, or fully skimmed), yogurts, fromage frais and cheeses. Choose calcium fortified soya milk, tofu, or soya yogurt. Have 2-3 servings daily. One serving equals 200 ml milk or soya milk, 30 g hard cheese such as cheddar, rice pudding or a small pot of yogurt.
Meat, Fish & Alternatives
These foods include protein, iron, B vitamins, zinc, potassium, selenium, magnesium. Phytochemicals are also in nuts, beans, lentils, tofu and seeds. Healthy choices include meat that is either lean or been trimmed, all types of fish, poultry, eggs, split peas and lentils, beans, nuts and meat substitutes (e.g. Quorn). Eat moderate amounts, e.g. 2-3 servings a day. A serving is: 50-75 g meat, 100 g fish, 1-2 eggs, 3-4 tbsp cooked beans, 50 g nuts. You will get plenty of protein in your diet, so there is no need for large meat portions. B vitamins promote a healthy nervous system.
Foods Rich in Fat and/or Sugar
This includes foods which have some essential fats, vitamins and minerals. Phytochemicals are in virgin olive oil, chocolate. Opt for unsaturated oils, e.g. olive, sunflower, soya, rapeseed and their spreads. When preparing food, use fats sparingly . Try to avoid eating fatty foods in large amounts. Look out for lower-fat alternatives to spreads, ready meals and dressings. Diets which are high in saturated fat encourage a rise in cholesterol levels, and a frequent sugar intake is not good for teeth and gums.
Healthy Eating Tips
Strive for balance from all food groups
Try to keep fat consumption at less than 30% of your daily caloric intake
Focus on whole grains instead of processed, refined foods
Keep sugar consumption low (cookies, cake, candy)
Salt intake should be no more than 2,300mg per day
It is not recommended for men to have more than 2 alcoholic drinks per day (one beer, one glass of wine, 1 1/2 oz of hard liquor are one serving), as alcohol is comprised of mostly empty calories and excess consumption may be harmful to your health
Pay attention to serving sizes, even using a smaller plate may be helpful
Know what type of fat (s) you are consuming
Drink lots of water
Read product labels - know what you're eating
Don't skip breakfast
Healthy Exercise Tips
Regular physical activity improves overall health, as little as 30 minutes can be beneficial:
Lessen the affects of stress
Better sleep
Improved cardiovascular health
Stronger immune system
Lower risk of chronic diseases
Reduce chances of depression and anxiety
Help achieve and maintain a healthy body weight
Bored with Exercise?
Change your activities
Walk the dog or do yard work
Park your car farther away or take the stairs
Find a new jogging, walking or biking route
Exercise with a friend or family member
Play outside with your children
Set realistic goals and reward yourself when you achieve them
You might also like...