Men's Grooming: Teens to Thirties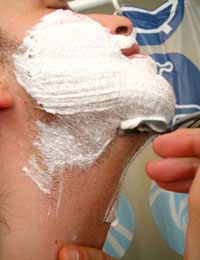 Shaving Tips
It's best to avoid shaving the very first thing in the morning. If possible, let your skin wake up a while. This allows any puffiness from fluids collecting in your skin during the night to recede. Then you will be able to get a closer shave.
Use an exfoliant such as a facial cleanser or mild scrub to eradicate dead skin cells and open up the pores of your skin to prepare it for a close shave.
Stubble should be wet with warm or hot water before shaving. This makes the hair shaft swell and allows the blade to cut the hair closely without cutting your skin.
Thoroughly massage shaving cream into stubble. A vitamin and Aloe Vera based shaving cream or gel will provide a close, soothing shave and protect against razor rashes and burns.
Use a sharp blade. A dull blade is responsible for many shaving cuts as it drags over your face and catches your skin along with the hairs of your beard.
Rinse the blade often in hot water when shaving and use slow short strokes. Don't rush.
Always shave in the direction that your hair grows on your face. Shaving against the grain can cause redness, rashes, razor burn and ingrown hairs.
After shaving, apply an oil-free moisturiser to soothe and protect the face. If you prefer an after-shave, check the label for alcohol.
Avoiding razor burn
The technical term for this condition is pseudofolliculitis barbae (PFB) and the primary cause is shaving with a blade. Men with curly, coarse or even fine hair often experience razor burn or razor bumps after shaving because the hair curls back, punctures the skin and becomes ingrown. You could eliminate the problem by simply growing a beard or rarely shaving. But of course you many not want to do this and unfortunately, for many professional men this is not an option. Here are some tips to help you recover from razor burn:
Prep your skin before shaving by using a face scrub to exfoliate and help lift the hairs from under your skin.
Liberally wet your face and apply shaving cream. Wait 2-3 minutes before shaving. The use of a shaving cream that contains vitamins and Aloe Vera is preferable over brands which may contain skin irritants such as sodium laurel sulfate.
Use a high quality razor and change the blade often. Dull blades are often the cause of skin irritations and shaving nicks.
Shave in the direction the hair grows on your face.
Do not pick at the bumps, as this tends to make them worse.
If possible, take the weekend off from shaving to give the irritation time to improve.
General Grooming Tips
Always wear a hydrating sun block with a sun protection factor (SPF) of at least 15.
If you've got a problem with mild to moderate acne, opt for alcohol-based topical antibiotics or benzoyl peroxide treatments.
Drink at least 8 glasses of water each day to keep your skin hydrated.
Trim your nails straight and file out rough edges.
Moisturise your skin regularly to keep it young looking and wrinkle free.
Get a regular hair cut to look trim and keep your hair in optimum condition.
You might also like...