Eye Make Up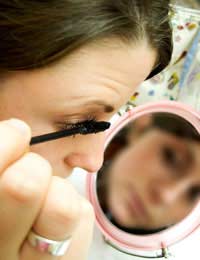 Using eye make up doesn't have to be a big mystery. There are some very simple tips you can use that will soon have you looking like you just stepped out of the salon. It's just a matter of knowing what's right for you and how to accentuate your own natural beauty. The important thing is to start with the right technique for your basic eye shape.
Wide-Apart Eyes
If your eyes are set wide apart and you want to emphasise their appearance for a young, innocent look, your eyes can be intensified by applying the strongest eye makeup effects near the outer corner of the eye. Keep shadow uniform and within outer corners. Brush your lashes straight up. If you want to make you eyes seem closer together for a more sultry look, use more intense colours near the inner corner of the eyes. Line eyes completely - top and bottom - from inner to outer corners. Apply a medium-toned shadow to lids and creases, concentrating the colour on the inner corners. Use mascara on both upper and lower lashes.
Enlarging Small Eyes
Apply a medium-toned shadow (such as soft grey or blue) to the crease. Use a soft-coloured liner on the top and bottom lash lines, extending the top line across the entire lash line and the bottom line from just under the iris to the outer corner. Apply light shadow on the eyelids, with more intense shades in the creases. Use black mascara on upper lashes.
Prominent Eyes
Eyes which are set far forward in the face tend to dominate the facial features. The eyelids are too pronounced. Medium to deep shades of shadow on the lids help to minimize their appearance. Liner applied to the lash bases from corner to corner gives prominent eyes a smouldering look.
Choosing The Right Colour
When you're choosing what colours to use with your eye make-up always pick shades to match your hair, not your eyes experts recommend that blondes look best in creams and taupes, while mochas and chocolate browns flatter brunettes. Women with auburn hair or redheads should go with coppers, peaches, and reddish browns or cool tones like pink and lavenders, while grey hair is best with greys, soft purples, and blues.
Types of Eye Shadow
Eye shadows are mainly classified into cream type and powder type. Powder type eye shadow is more suitable for more mature women or with oily skin type. A matured lady may have more wrinkles around the eyes. Cream eye shadow can tend to gather in and highlight wrinkles and darken the lines around the eyes. The cream type eye shadow is also prone to dissolve in oily skin and so tends not to last throughout the day.
Expert Tips
To glamorise eyes for night outs, add shimmer to highlight your eyes.
To add definition to your eyelids, apply a medium-toned shade across the lid and brow bone and dust the under brow area with a light highlighter shade. Use a very fine pencil liner of natural colour to line the upper and lower lash lines. High quality powder eye shadows can be used wet for heavier application by dampening your applicator a little.
On mature skin and puffy eyelids, avoid using iridescent, frosted, light colours and white eye shadows and opt for soft matte colours instead.
To brighten tired eyes extend the colour from the outer corner of the lid upwards to give them a feline shape. A light highlighter on the brow bone without the eyeliner brightens up the eyes. Concentrate mascara on the inner corner of the eye.
For day makeup, base colour and mascara are the only things you need to wear for eyes.