Eye Exercises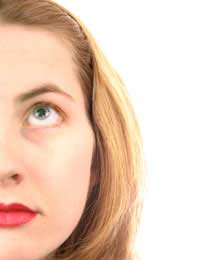 Do Eye Exercises Improve Vision?
Though it may sound like a strange notion to be doing a work-out for your eyes, eye exercises actually can improve your vision. You may not be able to throw away your glasses or contacts but some exercises can definitely tone your eye muscles which can help your eyes focus more easily and also alleviate eye strain, which is great if you spend a lot of time staring at a computer screen. Before you start your exercises here are a few tips to get you warmed up:
Remove your glasses or contact lenses.
Bathe your eyes or add a few drops of lubricating solution so that your eyes are not dry and scratchy.
Relax and breath deeply, focusing on your eyes.
Exercises your eyes regularly, preferably at least 2-3 times each day.
A Work-Out For Eyes
These exercises help to strengthen the muscles which will give you clearer vision and prevent eye strain. You should start to notice a difference after only a few days of exercising.
Rolling Round The Clock
Look straight ahead of you. Imagine that you are looking at the face of a giant clock. Keeping your head still, move your eyes slowly to each number on the clock face in a clockwise direction. Now repeat this movement in an anti-clockwise direction. Next, look up at the number twelve, stretching your eye muscles as much as you can, now down at the six. Then stretch to the three, and across to the nine.

Squeeze-Stretch
Squeeze your eyes into as tight a ball as you possibly can and hold then there for three seconds. Now open then and stretch them as wide as you can for three seconds. Repeat this exercise five times.
Focus Shifting
Hold up a finger or a pencil in front of you, about 6 inches away. Choose another object, e.g. a chimney or tree etc. at least 20 feet (6 metres) away. You can then use these as your near and far points respectively. Then you should alternate between the objects both near and far, you should look at each for around two seconds at a time. Repeat this exercise for 2-3 minutes.
Cupping
Rub your palms together until they are warm. Place your cupped palms over each open eye and hold them there for 20-30- seconds. Allow your eyes to relax in the darkness. Take long deep breaths then remove your hands and blink slowly.
Temple ContemplationPlace your fingers gently on your temples and rub them with a light rotating movement. Close eyes and focus on the feeling of your upper eyelids touching your lower eyelids. Open for 3 seconds. Repeat 10 times. Now keep your fingers still and blink lightly and quickly as fast as you can 10 times. If you feel any movement under your fingertips then you are blinking too hard. This is a sign of stress.
You might also like...