Intolerances to Food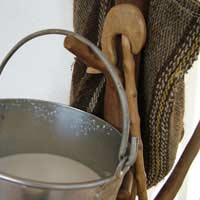 Food intolerance differs from a food allergy. Food intolerance is an adverse reaction to some sort of food or ingredient that occurs every time the food is eaten, but particularly if larger quantities are consumed. Unlike with a food allergy, in food intolerance, the immune system is not activated. Neither does food intolerance cause psychological reactions to food.
What Causes Food Intolerance?
Food intolerance occurs when your body is unable to deal with a certain type of foodstuff. This will usually happen because your body doesn't produce enough of the particular chemical or enzyme that's needed for digestion of that food.
Symptoms of Food Intolerance
Symptoms may include:
Nausea
Vomiting
Abdominal pain
Flatulence
Abdominal swelling
Gastrointestinal bleeding
Heartburn
Diarrhoea
Constipation
Anal itching
Tests for Food Intolerance
The diagnostic test for food intolerance is the elimination diet. This is, just as is seems, where foods are gradually eliminated from the diet until symptoms disappear.
Types of Food Intolerance
One of the most common types of intolerance is to cow's milk. This is due to an intolerance of lactose, a sugar present in the milk. Some people have a shortage of the enzyme lactase; this prevents their body from breaking down milk sugars into simpler forms that can be absorbed into the bloodstream.
Another common example is a deficiency of an enzyme called aldehyde dehydrogenase, which is needed to break down alcohol. Drinking even small amounts can make affected people feel unwell.
Some people are intolerant of food additives. Often, people who have severe food additive reactions also suffer from asthma or other allergies. Reactions to additives usually induce an asthma attack or cause a skin rash that looks rather like nettle rash.
The following types of additives can cause a reaction in some people
Sulphites
Sulphur dioxide (E220) and other sulphites are used as preservatives in many foods, and in some soft drinks. Since November 2005, food labelling rules require pre-packed food sold in the UK, and the rest of the European Union, to DESCRIP is staeted on the label if it contains sulphur dioxide or sulphites at levels above 10mg per kg or per litre (or if one of its ingredients contains it).
Benzoates
Benzoic acid (E210) and other benzoates are used as food preservatives to prevent yeasts and moulds from growing, most commonly in soft drinks.
Tartrazine
Tartrazine (E102) is a yellow colour used in a range of foods including soft drinks and sweets. Studies have shown that eating foods or drinks containing tartrazine can cause urticaria, dermatitis asthma, or rhinitis.
You might also like...