Find Your Own Make Up Style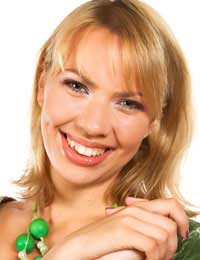 We're constantly bombarded with fashion and beauty advice but much of this isn't much good to us. It's all too easy to fall into the trap of wearing certain fashion or make up styles, just because they're fashionable right now. It's far better to find and stick to your own natural beauty style, as this will make you look your absolute best at all times.
Which Colours Suit you?
It sounds obvious, but a lot of women don't wear the right make up to suit them. If you're easily swayed by the ever changing beauty trends, you're probably not making the most of your natural look. The right colours for you will brighten your complexion and make you look like you - but better! The wrong colours will make your skin look pale or even grey.
What Make Up Basics do I Need?
Unless you've got lots of blemishes and scars, a light coverage of tinted moisturiser or foundation will provide a natural looking base that doesn't look too heavy, especially during the sticky summer months. A touch of concealer will cover up any imperfections that are still noticeable, and hide dark circles or bags under your eyes. As long as you choose the right shade to match your skin tone, this should create a flawless but natural base. Setting this with loose powder will counteract shiny skin, particularly in the oily t-zone area (forehead, nose and chin). Blusher will add a rosy glow to your face.
Eye Make Up
Your eyes are often one of the first things that people will notice, so it makes sense to play them up. It's worth spending some time finding an eye shadow or eyeliner that makes the most of your eyes without overpowering them. Neutrals suit almost all skin tones, but they can be too subtle for some pale skin tones, as they tend to sink into the overall colour of the skin. Pastels can provide a subtle emphasis without attracting too much attention.
Alternatively, you can experiment with eye-catching colours, but these won't necessarily make the most of your natural looks. Mascara will emphasise your lashes, but you don't need to use the black variety unless your lashes are exceptionally pale. Most women will find that brown or black-brown mascara will give their lashes enough emphasis without looking too harsh.
Beauty Tips for Lips
Beauty experts recommend making your lips the centre of attention if you're keeping your eye make up simple, but this doesn't have to be the case. As long as you choose a lip colour that works with your skin tone and hair colour, it will emphasise your features and doesn't have necessarily have to overpower them - unless you want it to!
For more advice on choosing make up colours, check out our articles on the Best Looks for English Skin, Asian and Mediterranean Skin, and Black Skin.
Finding your true beauty style is mostly a case of enhancing your natural features, perhaps through make up or the right hairstyle and colour. If they're done right, these can all make you look a lot better than before, but if they're wrong, they can really detract from your looks.
You might also like...