Revive Stretches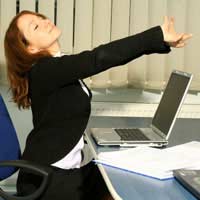 Who hasn't woken up in the morning and felt sluggish and unenthusiastic about the day ahead? Try doing some revive stretches first thing in the day to wake up your body and muscles and prepare them for the day ahead.
Yoga stretches are a great way to revive your body by increasing your blood flow. If yoga isn't your cup of tea though there are other reviving stretches that you can do instead.
Ideal Stretches
Below are some examples of stretches you can do daily to feel revived, refreshed and toned:
Leg Stretches:
Stand behind a chair and rise up on both toes. Ideally, you should be able to hold this stretch for around six breaths before you slowly plant your feet back on the ground. Do this twice more, and then switch to rising up on the toes of just the one foot, but leave the other foot flat on the floor. Alternate the raised foot four times and hold each stretch for around three breaths. The added benefit of this stretch is that it will tone your leg muscles, as well as reviving.
Shoulders and Upper Back
Interlace your fingers with your palms facing away from you. Keep your back as straight as possible, and stretch out in front of you (keep your fingers interlaced) as far as you can reach. If you're doing it right, you should feel less tension in your shoulders, forearms and possibly the upper back. As well as increasing blood flow, this stretch also relieves stress.
Torso and Neck
The box stretch is another easy revive stretch that can be done in the office. You can easily do them at your desk in your lunch hour -or just when your boss and colleagues aren't looking! They are simple but targeted stretches that will revive your body during the mid-afternoon energy slump that almost all of us experience. To get into the box stretch, sit on the front of your chair with your legs hip distance apart, and keep your feet firmly on the floor. Gently lean forward with your upper body. You might need to put your arms on your thighs to steady yourself. Stretch out your back and move your head forward while you stare down at the ground. Take care not to stretch out your neck too much in the process. It is surprisingly easy to carry on working like this if your reading materials are on the floor, so you can actually incorporate this stretch into your daily routine with little complication.
Feel Revived
Most of us feel our energy levels take a dramatic plunge after lunchtime, and this can have a big impact on your productivity for the rest of the day. If you include regular revive stretches into your working day, you can counteract this and get a lot more work done. Stand up straight and bring your head down. At the same time, bring your shoulders up around your ears before letting them return to normal. Move your arms in alternating circles (have one arm circling forwards while the other circle backwards). Bring one of your knees into your chest, kick your foot out and shake it. Do the same with the other leg. This will stretch a wide range of muscles and increases your blood flow, which makes you feel more alive.
You might also like...