Best Looks for Black Skin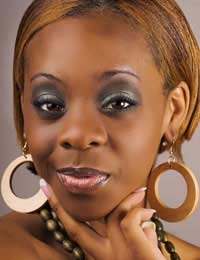 If you have darker black skin you can generally pull off much stronger make-up looks than those with white skin. You can get away with wearing deeper shades on your lips and cheeks, as well as the bright or dark eye make-up that tends to make pale skin look even paler. Bronze, olive green, emerald green, sapphire blue, grey, plum and pastel shades can be good looks for eye make-up. Make the most of the fact that you're not so restricted in your choice of colours by experimenting with bold eye make-up or lip colour, but keep in mind the golden rule of wearing eye-catching make-up - it's either the eyes or the lips.
If you have paler black skin, try caramel, coffee, toffee, chocolate brown, wine, deep plum gold, bronze, emerald green, violet and navy blue shades for eye make-up. Berry shades will work well on your lips, as will coral, bronze, terracotta, dark apricot and most deep warm pink colours. For blusher, pick a shimmery golden-pink shade to emphasise the golden undertone of your skin.
If you don't feel confident enough to wear dramatic eye make-up, take a leaf out of Halle Berry's book instead. The actress is rarely seen wearing strong eye make-up, and instead prefers to stick to the neutral shades that let her natural beauty shine through. The emphasis is usually on the lips, with a healthy glow and subtle eye make-up completing the look. An apricot or deep rose blusher will complete the look. Darker skin tones can carry off richer lip colours, so you can experiment with coral, rose, light brown and dark plum shades of lipstick and lip-gloss. Shimmery lip-gloss in one of these colours will look particularly good, and will show off the natural fullness of your lips. Lip liner usually isn't necessary as many women with black skin have full enough lips to forgo this. It's the same story with mascara. As your lashes are likely to be naturally dark in the first place, a coat of clear mascara is all you need to separate and emphasise the natural colour of your lashes. If you still feel that you need to wear mascara, a touch of light brown mascara will usually do the trick.
For more glamorous occasions, metallic eyeshadow in shades such as silver and plum will create an eye-catching look. The eyes are the focus of this look, so keep your lips simple with a slick of lip-gloss in a deep red shade such as wine or burgundy.
Women with black skin have lots of make-up options available to them. You can carry off dramatic colours on your eyes and lips - but not at the same time, or you'll look like you've put your make-up on in the dark! Generally speaking, you've got a wider range of colours that will suit you than is the case for women with pale skin, so you can really take the chance to try out different shades and see which ones you like best.
You might also like...
I am looking for perfect make up for myself, I have a lot of oily skin
hettyjoe
- 20-Mar-13 @ 4:33 PM