Cleavage Tips and Breast Shape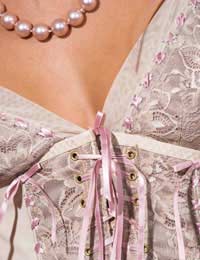 For the good of our health and of course for the appearance of our upper curves, it's important to lavish special care and attention on the breast area. It's a sensitive subject for many reasons, from issues of size through to the thought of cancer. It may sound a little strange, but gaining familiarity with your breasts will have all-round, positive effects. Learn not only how to make them look great but for your safe well-being, be your own breasts' best friend by being aware of any changes.
Breast Awareness - for Health Safety's Sake
All major UK healthcare organisations from the NHS to Breakthrough Breast Cancer agree on the importance of breast awareness for women of all ages. It's essential to learn and recognise what looks and feels normal to you. Standard breasts as such do not exist and even our own can appear different over time, depending on the time of the month and the age we're at. The general consensus is that no set taught technique is more effective than self-examination in whatever way feels comfortable. Treat it visually and physically. You will need to look and feel both front and side on, maybe in the shower or lying down. It's probably best to self-check once a month the week after the start of your period when breasts are least likely to be tender or swollen. Avoid checking more often than recommended as subtle changes may be ignored. Anything irregular, see your GP - and don't panic, 9 out of 10 cases are harmless.
Changes to Check for:
The general outline, size or shape. Everything OK when you lift either breast or move either arm?
Any skin dimpling or puckering. Thickening, bumpy areas and lumps in one breast or armpit different from the corresponding part of the other breast area. Likewise if new veins stand out on one breast
New or persistent pain or (non-period) tenderness within the breast
Focus on the nipples. Look for changes in position, signs of rash, redness or bleeding and irregular nipple discharge.
It's worth noting that lumpy or 'fibrocystic' breasts are a common occurrence often during periods or 'pre' menopause and menopause. The condition is not indicative of anything wrong but makes it more challenging to know what's regular, what's not. Any doubt, again inform your GP. Early detection makes sense.
How to Get Better Breasts
First spend time on the condition of your skin. Introduce gentle massage of special oils and lotions into your regime. By increasing blood flow to neglected areas, therapeutic massage from your own kind hands softens skin texture, improves appearance. Try such as Vitamin E oil, E45 or nourishing cocoa butter to moisturise and to minimise unsightly stretch marks.
Say bye to ill-fitting bras. All too often the culprits behind damaged tissue, stretch marks to backache. (Para on Good Foundations from Figure it Out may fit better here). Though the correct bra measuring technique is easy to pick up, it's still preferable to be measured by a professional as mistakes can slip in on looking down to do it yourself. One breast bigger than the other? Fear not, it's the norm for most women - up to a cup size bigger on one side in some cases. Be fitted to the larger side, otherwise you'll be 'binding' the larger breast. DO wear a second-skin, supportive sports bra during leisure activities. DO NOT wear a bra at night in bed - it restricts the blood flow when delicate bits need to 'breathe!'
The sun and smoking pose specific health hazards to breasts. Resist the temptation to sunbathe topless - UV radiation causes damage from premature ageing and increases the risk of skin cancer. Smoking effectively acts as a nutrient blocker so that breast skin may coarsen and potentially harmful free radicals build in the body. Excessive alcohol consumption can also act to 'deaden' the appearance of breast skin. Upping your water intake in comparison, 'plumps' skin.
For breast and all-over health, less of the dairy, 'green up' your diet. Eat dark, leafy veg and phytoestrogen-rich foods, soy and tofu in the Japanese, stir-fried manner - as a nation they have less incidence of breast cancer.
Think cosmetic tricks. When wearing low-cut to strapless tops, draw attention to the cleavage with a light brush of bronzing powder or light shimmer dust depending on skin tone. Tops wise, a mono colour minimises a big bust, whereas an Empire line, gathering or pretty detail over the bust enhances smaller girls - as does the modern miracle, the push-up bra.
Bust Boosters
Size matters?
Not as much as you may think. Or put another way, forget fake-looking boob jobs, your own breast size can be naturally enhanced with some savvy exercise moves. At worst, sloppy breasts of any shape and size left to their own device can resemble fried eggs on the front of your body. Although breasts being fatty tissue-based can't exactly be exercised, the underlying pectoral muscles can and when firmed, the results are fuller and firmer breasts to rival any glamour model's!
Bust exercise options - Swimming makes best breast sense as the water is chest-supporting and the aptly titled breast stroke is perfect for pectorals. (Speaking of splashing, a burst of cold water on the sides of breasts after you shower perks and tones). Belly-dancing is a great figure-affirming, bust firming dance form, whatever shape you're in. Some exotic moves work as bust isolations and shimmies that tone in style.
Press-ups & 'Prayers':Learn to do a press-up properly - in plank position, hands equally apart and under shoulders, legs and feet together, stomach sucked in. Or attempt from kneeling, if unused to exercise or have a bad back. Easier is the 'Prayer'. Standing feet apart with elbows out to side, palms together in front, hold for a count of 5 breathing in, feel chest tighten. Relax and repeat for 10.
Feel smaller than the national average bust size (now 36C, 10 years ago a mere 34B)? Remember some of the world's most stylish women past to present including Jackie Onassis to Kate Moss, are in the A&B cup category. Just love that bust, whatever.
You might also like...