Butt Firming Ideas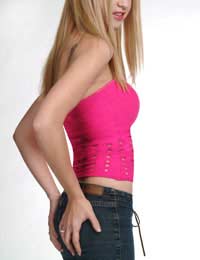 Bums, buns, butts, bottoms, backsides and booty. Whatever you care to call your rear view, chances are you'll think yours isn't so much your biggest asset as well, just too big. No wonder most women's stereotypical question is, 'does my bum look big in this?' As the nation seems to spend far too much time sitting on its collective derriere, the biggest muscles in our body do indeed run the risk of resembling saggy apples rather than pert peaches. Keep sedentary and expect to keep spreading outwards. Turn the other cheek as it were, and the good news is that it's an area ripe for responding to zone toning, with a little know-how…
Salon Ways to a Better Bottom
If you're a stranger to exercise, can't stand the thought of it or feel you need specialised help to get going, you may prefer to first indulge in professional help via salon pampering treatment. Your beauty therapist will advise on the best course of butt-boosting action for you.
To improve contours 'mechanically': Various electrical muscle stimulation and galvanic treatments are available. Electrical currents are harnessed in all sorts of commercial products that act on the client as a passive form of toning exercise by prodding the circulation. You can buy lesser designs from electrical stores (think the old Slendertone device with pads and straps) but perhaps the safer, more effective version's to be tried on professional turf. Aside from being tedious to apply correctly on key body points yourself, you may need to be made aware of any personal contra-indications eg. scar tissue, hyper-sensitive skin, to match your needs to the machine. A course of 12 treatments is usually advisable, to see significant difference.Some salons sport toning tables - another means of hopefully achieving the same uplifted end!
To improve contours manually: Specific massage styles such as pressure stroking technique effleurage, to brisk hacking and cupping help to increase blood and lymph circulation, thereby improving texture and appearance.
DIY Bottom Firmers
For fine flanks, a balanced, all-round diet as well as exercise, needs to be factored in. To avoid less fatty build-up, eat less dairy, up your intake of wholesome, omega 3 and 6 rich foodstuffs such as fish. Great flab-firmers to do at home include the following:
'Walking' across the room while sat down, bending each knee in turn to move forward.
'Dog hind leg lifts' - (Safety note: only do if used to exercise with no back problems). From all fours, bend right knee in as if trying to touch forehead, release and gently lift behind, keeping hips level. Repeat sequence of 5 on each side and do daily. Also try side leg lifts from the same starting position.
The Anytime, Anywhere Clench - Standing upright, squeeze one buttock to the count of five, release, repeat other side. Or when indoors, accelerate this basic method into jogging on the spot.
Charleston Steps - To favourite, upbeat music, step left and kick forward with right, step right, kick back on left. After three times, step together to side twice as in L, R,L, R, L, to change feet and repeat all on other side. Adapt to suit the music. Make it spring, co-ordinate swinging arms as in the 1920s flapper dance or keep on hips to balance. You never see a dancer of any kind with a droopy bottom!
End Thoughts…
There is a natural cultural difference in bottom 'design'. Whereas white and oriental races have a tendency to flatter posteriors, black bodies appear naturally more rounded in comparison. Luckily, like breasts, there is no set ideal of perfection!
It isn't bottom size that counts but the shape it's in - which should suit your frame. While cute glutes like Kylies are perfect on a petite girl, a more upholstered butt - think Marilyn Monroe to Jennifer Lopez - looks equally good on a shapely physique. (And a little bit of wiggle looks womanly in any case). Remember that 'proper' pants as opposed to cheese-string g-strings give a supported, uplifted outline under clothes. Bottoms up!
You might also like...